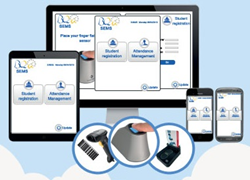 London, UK (PRWEB UK) 24 June 2013
Some institutions regard the use of biometric methods, like fingerprint recognition scanners, with an instinctive dislike. There is a fear that students could find such systems to be unattractive, with unfounded but genuinely held concerns about 'their fingerprints being held in a system, with no control over how they are used'.
Whilst understandable, these worries are based largely on a fear of the unknown. Fingerprint recognition systems for example, do not record or hold an individual's fingerprint, they save a mathematical representation of the student's biometric data. It is impossible to reverse engineer or retrieve a student's fingerprint from the system.
BQu the developers of BQuTMS and BQuSAMS has therefore developed a variety of other solutions to ensure there are no obstacles to gaining the other compelling benefits delivered by time and attendance monitoring. The latest solutions include Smart Card Readers, NFC Readers, QA Readers, Smart Phones (IPhone and Android), and Tablets.
Each is consistent with the BQu ethos of enabling customers to make the most of existing resources to minimise implementation costs, whilst delivering state of the art systems through clever use of the latest technologies.
For instance, where an institution is already using Smart Cards for students for security and access purposes, these can be used to register attendance at classes, lectures or the library through the use of a Smart Card Reader, linked to the BQuSAMS. The data is gathered and made available immediately in real time to the responsible administrators, enabling them to identify where a student may be having difficulties and could benefit from some additional support.
"BQu are always listening to their customers to identify their key issues which can be solved by innovative and astute use of the latest proven technologies. In this way, our customers know that they will always be using the most up to date system, without having to pay for constant upgrades," Said Ian Pack, Head of Business Development at BQuTMS. "We work with our customers to develop individual solutions to their unique issues.Our customers gain from working with the leading experts in the field and the economies of scale that we are able to utilise, making apparently expensive system solutions surprisingly affordable."
BQu Time Management System is a complete suite of time management tools to capture, manage and analyse data gathered on a day to day basis. The BQu Student Attendance Management System (SAMS) has been built to answer most of the problems faced by Universities and Colleges in relation to Tier 4 licences and student engagement monitoring.