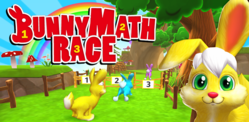 Tampere, Finland (PRWEB) June 20, 2013
Bunny Math Race's star is Bunny, the fastest bunny in the village. Run, Bunny, run—through the beautiful countryside, desert, Icy roads, or mountains! During the race, children solve math puzzles, and the quicker they solve the tasks, the faster Bunny goes! The vibrant and charming 3D graphics makes Bunny Math Race truly stand out as the perfect summer learning companion for your child!
"According to several studies, game-based learning is the most effective and natural learning tool for kids. Math Bunny Race is an excellent example of how effective learning can also be fun!" says Juha Väisänen, former Finnish teacher and founder of Fantastec Oy.
With Bunny Math Race, preschoolers through first graders can learn key academic concepts, while they are also having summer fun! This game uses simple, child-friendly, 'single tap' game navigation with lots of fun tasks to solve. School's out, and Bunny Math Race offers fun summer learning!
Game is now available for download onto iPad and Android devices
App Store: https://itunes.apple.com/app/id657689176
BeiZ is a game studio that provides educative and enjoyable LOLA PANDA™ applications for children. BeiZ also assists its partners in publishing their games and mobile content. BeiZ has headquarters in Finland and operations also in China. Copyright (C) 2013 BeiZ Ltd. All Rights Reserved. http://www.lolapanda.com Contact info: CEO Mika Heikinheimo, Mika(at)beiz(dot)com
Fantastec— Educational excellence from Finland, the country of the world's best learning results (OECD: PISA research). Fantastec is an award winning game studio founded by a Finnish teacher, who believes that having fun is the best way for kids to learn. Our mission and passion is to enrich children's happiness with fun and educational games. http://www.fantastec.fi Contact: CEO Juha Väisänen +358 414355788, juha.vaisanen(at)fantastec(dot)fi