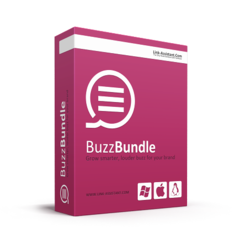 The software market offers a huge variety of tools to handle different aspects of SMM campaigns. The review describes how popular SMM apps manage essential social marketing activities.
Minsk, Belarus (PRWEB) June 19, 2013
LinkAssistant.Com, the leading global supplier of desktop-based SEO tools and social media marketing software, which are SEO PowerSuite and BuzzBundle, released a detailed review of most popular social marketing solutions. This SMM tools review provides a detailed overview of the software functionality and shows how popular apps assist in managing important social media marketing activities. Thorough feature comparison tables lets users see and compare all the features of the analyzed tools at a glance.
*Why SMM is important for any type of online business*
The role of social media marketing is getting increasingly important for practically any type of online business. Social networks, photo- and video-sharing platforms, social bookmarking sites can be used as channels for reaching a huge number of people, building a loyal customer following and shaping company's trustworthiness and positive reputation on the Web. Thus, using social media is the essential key to the ultimate online marketing success.
*Why SMM software is helpful for managing social marketing campaigns*
That's just one ounce of what a social media marketer must to:

tracking social media signals;
managing online communities;
analyzing competition landscape;
monitoring customers' feedback;
providing support for a product/service.
A good SMM tool can lighten up this workload, automate some routine tasks and make the whole process of running an SMM campaign faster and easier.
*LinkAssistant.Com review of SMM tools*
"The software market offers a huge variety of tools to handle different aspects of social media marketing," says Viktar Khamianok, CEO, Link-Assistant.Com.
"These days, when competition is tough and social media tasks are abundant, choosing the right tool can be a turning point in determining the overall success of your company. We tested some popular SMM solutions to check how effectively they manage important social marketing activities. You'll definitely find the results useful," continues Viktar.
The review includes such popular SMM apps as BuzzBundle, HootSuite, Buffer and TweetDeck. In the review, the analyzed tools are compared against various criteria:
data management;
the degree of integration with social media sites;
management of social media profiles;
communities management;
the ability to run certain tasks on auto-pilot;
customizability;
user-friendliness;
safety of use.
The full review is now available at http://www.link-assistant.com/buzzbundle/compare-smm-tools.html. Stay tuned for more SEO and SMM news - subscribe to Link-Assistant.Com's SEO blog.
*About Link-Assistant.Com*
Started in 2005, Link-Assistant.Com is the software house, developing SEO and SMM solutions for bloggers, in-house SEOs and SEO agencies. The company's products are SEO PowerSuite (all-inclusive SEO toolkit) and BuzzBundle (SMM app). To be in the know of Link-Assistant.Com's news, Link-Assistant.Com official website and social media boards the company passionately supports: Facebook fb.me/LinkAssistant, Twitter @LinkAssistant and Google Plus gplus.to/LinkAssistant.