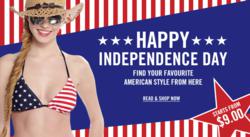 OASAP is offering this "Share and Win" giveaway contest to celebrate the upcoming American Independence Day.
New York (PRWEB) June 20, 2013
OASAP Ltd., a global women fashion dresses provider, is excited to announce the "Share and Win" giveaway on its Facebook page, held by OASAP fashion editors.
From June 20 – July 5, 2013, fans from all over the world are encouraged to take part in the giveaway. A total of 15 fans will be lucky enough to get a piece of maxi dress or mini dress from OASAP.
OASAP is offering this "Share and Win" giveaway contest to celebrate the upcoming American Independence Day. "Independence Day is a national day of celebration," explains Moore, OASAP CEO. "We wanted to celebrate the festival and share the joy with the global fashion lovers by offering this contest to anyone interested in OASAP dresses. We have prepared many kinds of dresses, such as evening party dresses, cocktail dresses and prom dresses, as the prize for the winners."
Those who are interested in entering to win the 'Share and Win' contest should go to https://www.facebook.com/OASAP and submit their information, and create a picture of their own American style. Winners will be selected at random when the giveaway is finished.
The prize will be different for each winner from the contest; OASAP is offering winners the chance to choose the dress which will match their style closely. Some popular attractions available over the contest include maxi dresses, mini dresses, lace dresses, vintage dresses and etc.
"We hope all OASAP fans will send their beautiful pictures of American styles to us, and these pictures will be posted on OASAP Facebook page for worldwide fashion lovers to comment," Miss Mandy said, OASAP Facebook editor. "In other words, these fans who join the contest will have a chance to be a popular stars among Facebook readers."
In addition to the contest, OASAP will offer a promotion for all American flag style products on the site, that includes a low price starts from $9 and 20% off for the first order.
About Us
OASAP IS: A High-street Fashion Online store
OASAP Likes to: Deliver fashion & love!
OASAP is a global online store dedicated to high-street fashion by offering various kinds of women's apparel, bags, shoes, jewellery, accessories, beauty products, etc.
OASAP was founded in late 2011, and has already grown to the leader of high fashion online stores. We keep updating products at a high rate every day. Now we update more than 600 new products each week. Those products mentioned definitely belong to the latest fashion trend.