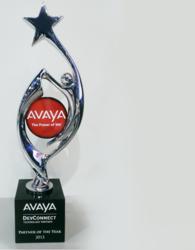 The Integrated Research team has demonstrated exceptional commitments to Avaya customers and the Avaya DevConnect partnership
Denver, CO (PRWEB UK) 20 June 2013
Integrated Research (IR) today announced that Avaya has selected IR as its 2013 DevConnect Technology Partner of the Year.
IR was chosen for its award-winning Prognosis for Unified Communications (UC) real-time performance management and monitoring solution, which complements the Avaya portfolio and increases customer satisfaction by providing end-to-end visibility of UC and Contact Centre environments.
The Avaya award recognizes DevConnect Technology Partners who deliver innovation and excellence. IR's Prognosis for UC was selected because it enables enterprises and service providers to achieve operational excellence through improved communications quality, service reliability and proactive issue resolution across multivendor UC platforms.
"The DevConnect Partner of the Year award formally recognizes Integrated Research for embracing all aspects of The Power of We," said Eric Rossman, vice president, Developer Relations, Avaya. "By working together, we help our mutual customers succeed in their operations. Prognosis software complements the Avaya portfolio and increases customer satisfaction by reducing UC and contact center complexity. The Integrated Research team has demonstrated exceptional commitments to Avaya customers and the Avaya DevConnect partnership."
Andre Cuenin, IR President Americas, who received the award at the IAUG Converge2013 conference last week added: "This is a significant validation of Integrated Research and Prognosis and underscores the relevance of performance management for UC."
Prognosis for Unified Communications leverages IR's 12 years of VoIP and UC domain knowledge to deliver out-of-the-box performance management, making it easy for customers to investigate, troubleshoot and resolve issues before they impact their business or customers.
For more information, visit http://www.prognosis.com.
About Integrated Research (IR)
Integrated Research (IR) is a leading global provider of high-definition performance monitoring, diagnostics and reporting software. The creator of award-winning Prognosis®, IR builds scalable, customizable solutions designed to manage continuity-critical IT infrastructure, payments and communications ecosystems. IR provides real time solutions that give customers the insight they need to run their business, reduce their operating costs, minimize risk, and gain competitive advantage. For further information on Integrated Research, please visit http://www.ir.com.
Media Contact for United States:
Andre Cuenin
Integrated Research
t: +1 (303) 390 8700
e: media(at)ir(dot)com