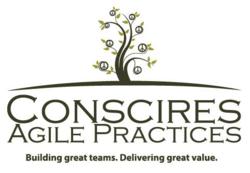 Complimentary 1-hour interactive webinar
(PRWEB) June 22, 2013
The purpose for conducting these classes is to spread awareness about Scrum, as Conscires strongly believes in its capacity to transform workplaces for the better. As there are many people who are going through a job transition and are often making a career change, a new tool like Scrum would give them an edge for the interview and be beneficial for them in their new team. In short, these classes have enabled Conscires to give back to the community. Indeed, many of the trainers have chosen to train for Conscires because of this particular cause.
The presenter, Bachan Anand, the founder of Conscires Agile Practices and an Agile Coach, will focus on the following goals and explain how Scrum and Agile would help in achieving them:
As a Customer:
– The ability to market the product in a shorter span of time
– Faster return on investment
As a Leader:
– To measure the progress of the project in terms of real progress-made and product-readiness for shipping
As a Team Member:
– A sustainable pace
– Satisfaction that a quality product has been delivered
The webinar will be conducted on Wed, Jun 26, 2013 Wednesday, Jun 26, 2013
12:00 PM – 1:00 PM US PACIFIC TIME
https://www3.gotomeeting.com/register/695107638
Conscires Agile Practices comprises of a team of Agile enthusiasts who believe in creating a positive change using the best practices of Scrum. With offices in Irvine, CA and Bangalore, India, it guides organizations in the US, UK, India, UAE, Singapore, and Indonesia to discover their strengths and identify areas for improvement. In addition to training 4600 individuals in the past three years, Conscires has also guided software development teams from NASA, Cognizant, Mercury Insurance Group, to name a few. The services that are offered on Agile and Scrum include: Training, Assessment, Coaching, and Consulting. Workshops and free webinars are also conducted.
Kindly visit Agile.conscires.com for more details.