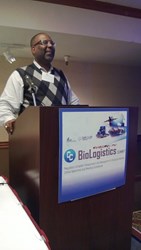 Bloomington, Indiana (PRWEB) June 19, 2013
BioConvergence team members Curtis Strother and Désirée Valentine joined the speaking faculty at 2013's BioLogistics Summit in San Francisco earlier this month.
The conference, coordinated by Cold Chain IQ and IQPC, addressed the increasingly complex logistical issues surrounding biologics. This "complexity" is, in part, attributed to current trends of globalization, outsourcing, and personalized medicine.
"Implicit within these trends is an increase in movement, which is often associated with quality and product integrity issues," according to Strother, Senior Technical Services Scientist & Project Manager at BioConvergence.
"To avoid these issues, it is important to design a custom transportation strategy for your biosample that will minimize risk of degradation in a cost-effective manner. During our presentation, we introduced a risk matrix for biosamples that we developed to help organizations make informed logistical decisions based on the unique attributes of their biosamples," Strother relates.
The matrix evaluates biosamples on four parameters: storage/shipping temperature, shipping destination, type of sample, and sample stability. The risk-reduction recommendations that BioConvergence then applies to its shipments are based on best practices guiding relatable temperature-sensitive products within the pharmaceutical industry.
"More than anything, this matrix guides our organization in having a targeted discussion surrounding the risks that biosamples are exposed to and what measures we can take to achieve an acceptable level of risk-tolerance," adds Valentine, Senior Supply Chain Manager and Business Alliance Manager at BioConvergence.
To learn more about minimizing risk to biosamples and to access the full presentation, please visit http://www.bioc.us/biologistics2013.
An expanded discussion of BioConvergence's recommended temperature-controlled shipping strategies will take place this fall during the 11th Annual Cold Chain GDP & Temperature Management Logistics Global Forum when Valentine and Associate Process Engineer, Travis Hudson, will conduct a discussion on key findings discovered through international shipment case studies.
About BioConvergence
BioConvergence is a contract service provider to the life sciences industry, offering outsourcing partnerships for formulation development, testing, production, and supply chain services. Headquartered in Bloomington, Indiana, they have over 50 employees with more than four centuries' worth of combined experience in the pharmaceutical industry. Their unique E-Transparency® System provides transparency and flexibility to their clients, while offering superior, quality-driven outsourcing services. For more information, visit http://www.BioC.us.