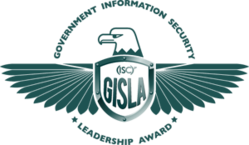 "The federal information security workforce is in need of leaders who have a vision for a more secure nation and inspire those in the workforce to advance this very important mission," said W. Hord Tipton, executive director of (ISC)2.
Clearwater, FL (PRWEB) June 19, 2013
(ISC)²® ("ISC-squared"), the world's largest information security professional body and administrators of the CISSP®, today announced it is now accepting nominations for its 2013 U.S. Government Information Security Leadership Awards (GISLA®).
The GISLA program, which is sponsored by the (ISC)2 U.S. Government Advisory Board (GAB), was established in 2004 as part of (ISC)2's effort to recognize federal information security leaders whose commitment to excellence is helping to improve federal information security and to advance an in-demand workforce. Awards are given in several categories to recognize individuals and teams whose initiatives in the areas of technology improvement, process/policy improvement, workforce improvement, federal contractor or community awareness have led to significant improvements in the security posture of a department, agency or the entire federal government.
"The federal information security workforce is in need of leaders who, despite intense legislative and budgetary challenges, have a vision for a more secure nation and inspire those in the workforce to advance this very important mission," said W. Hord Tipton, CISSP-ISSEP, CAP, CISA, executive director of (ISC)2 and former CIO for the U.S. Department of the Interior. "We consider these leaders some of the government's greatest cyber assets."
A nominations committee comprised of senior information security experts from government and industry will review and select winners from the five categories of finalists based upon the selection criteria and eligibility requirements. The 2013 GISLA judges are:

Steven Hernandez, CISSP, CISA, SSCP, chief information security officer, Office of Inspector General, Department of Health and Human Services
Ray A. Letteer, CISSP, NSA-IAM, ITIL, chief, Cybersecurity Division of the Command, Control, Communications, and Computer (C4) Department at Headquarters, U.S. Marine Corps
Charles "Chuck" McGann, CISSP, CISM, IAM, corporate information security officer, U.S. Postal Service
Marc H. Noble, CISSP-ISSAP, director of government affairs for (ISC)2
Robert "Rocky" E. Young, CISSP-ISSAP, ISSMP, director of cybersecurity, Information Assurance, Outreach (CIAO) and Mobile Security Division, Defense-Wide Information Assurance Program (DIAP), Identity and Information Assurance Directorate (IIA)-DoD Chief Information Officer, Office of the Secretary of Defense
Dara Gordon Murray, CISSP, director of IT security for the program support center, U.S. Department of Health and Human Services (HHS)
Art Friedman, CISSP, senior strategist for the Enterprise Engineering Office, National Security Agency
Jerry G. Ormaner, CISSP, CIO, CISM, senior information technology project manager, operations services staff, U.S. Department of Justice
(ISC)2 officials, sponsors, and others will honor the 2013 GISLA recipients at a gala dinner and awards ceremony on October 29, 2013, in the Washington D.C. metro area. To nominate a candidate for a GISLA, please create a login account and submit your nomination form at http://awards.isc2.org/. The submission deadline for nominations is August 2, 2013.
About (ISC)²
(ISC)² is the largest not-for-profit membership body of certified information and software security professionals worldwide, with nearly 90,000 members in more than 135 countries. Globally recognized as the Gold Standard, (ISC)² issues the Certified Information Systems Security Professional (CISSP®) and related concentrations, as well as the Certified Secure Software Lifecycle Professional (CSSLP®), Certified Authorization Professional (CAP®), and Systems Security Certified Practitioner (SSCP®) credentials to qualifying candidates. (ISC)²'s certifications are among the first information technology credentials to meet the stringent requirements of ISO/IEC Standard 17024, a global benchmark for assessing and certifying personnel. (ISC)² also offers education programs and services based on its CBK®, a compendium of information and software security topics. More information is available at http://www.isc2.org.
© 2013, (ISC)² Inc. (ISC)², CISSP, ISSAP, ISSMP, ISSEP, CSSLP, CAP, SSCP and CBK are registered marks of (ISC)², Inc.