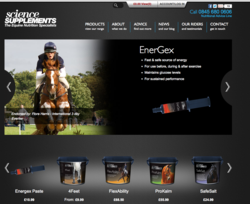 (PRWEB UK) 20 June 2013
Graphic Evidence's team of talented graphic designers were recently commissioned to create an informative e-commerce website for Science Supplements.
Equine nutrition specialists, Science Supplements produce a range of quality supplements, containing high grade, clinically proven ingredients. Science Supplements aim to not only produce high quality products but to also provide advice from their team of experts including industry scientists and veterinary practitioners.
Built using Magento, the fully content managed site is designed to make navigation easy for users, whether simply buying a product, locating a stockist or looking for advice.
With its unique and innovative design the website contains a number of features which promote its effectiveness and functionality. Distinctive features includes a map function allowing users to pinpoint specific stockists quickly and easily and impressive javascript slider and carousel banners which proudly display featured products and celebrity rider endorsers.
Graphic Evidence's web designers have built additional features into the the site including a rate and review option allowing users to review and leave comments about specific products.
Another function included on the website enables users enabling users to share products across a variety of social networking sites.
The graphic designers at Graphic Evidence were also commissioned to create stylish new labels for the range of products. The new label designs have a sleek and modern feel, complimenting the new website and further enhancing the brands professional image.
The newly designed labels will ensure the products stand out from their competitors by not only capturing buyers attention but also providing buyers with a source of essential information communicating the brands specialist knowledge.
To view the Science Supplements website and new product labels as created by Graphic Evidence please visit http://www.sciencesupplements.co.uk.
To find out more about the work of Graphic Evidence as a creative marketing company and to view other web design projects, please visit http://www.graphicevidence.co.uk.