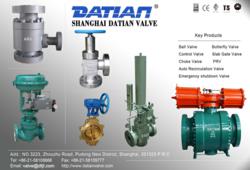 (PRWEB) June 19, 2013
DaTianValve.com is a well-known valve manufacturer from China. Recently, the company has released its new control valve collection to help to improve a machine's working efficiency greatly. Today, DaTianValve.com announces its special offer on control valves, up to 30% off.
Control valves are valves used to control conditions such as flow, pressure, temperature, and liquid level by fully or partially opening or closing in response to signals received from controllers that compare a "setpoint" to a "process variable" whose value is provided by sensors that monitor changes in such conditions.
"We are excited to launch the promotion to make our valves available to more people in the world. Our new control valves can bring a fresh feeling to the market," says, Steve Zhao. "Our control valves can improve the valve's working efficiency greatly, up to 39%. Moreover, the valve design permits inspection and repair of seats and seals without removing the valve body from the pipeline. Now, all the control valves are offered at discounted prices."
DaTianValve.com has been in the industry for many years, and it is devoted to the OEM and ODM of all kinds of valve products. Its ball valve and gate valve products are very popular in the global market. Moreover, the company has independent intellectual property rights for its automatic recirculation valve collection.
About DaTianValve.com
DaTianValve.com is a leading valve manufacturer located in China, offering a wide range of valves, including ball valve, gate valve, control valve, manual valve, automatic valve, lining valve and fittings. Most of their products are exported to Europe, North America, British, Japan, Australia and some Middle East countries.