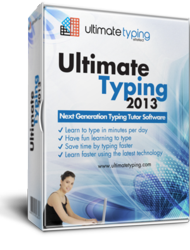 The combination of the two covers all common aspect of computer use for document processing...
New York City, NY (PRWEB) June 25, 2013
eReflect software company, developer of the typing software system Ultimate Typing™, announced today that those customers who purchase Ultimate Typing™ during the promotional period will benefit from getting a special free ebook which features tricks and tips for Microsoft Office productivity. According to the company, this limited-time extra bonus offered to Ultimate Typing™ customers is the most suitable bonus they could think of giving away to people interested in improving typing skills. The company's representative explained that while Ultimate Typing™ will help the user start typing faster, the ebook will help that user perfect their computer skills when it comes to making Microsoft Office use more efficient. The combination of the two covers all common aspect of computer use for document processing, which makes it the perfect gift for people wishing to significantly improve their overall computer performance without spending much time and effort on the process, the representative clarified.
The free Microsoft Office Productivity Tips and Tricks ebook covers all essential aspects of document creation, giving users the ability to prepare professional-looking presentations and reports. The ebook also features lesser known but extremely useful Microsoft office tricks for making life easier, and hundreds of quick tips for optimizing the way Microsoft Office is used in daily work. eReflect's representative explained today that the offer is prompted by the company's desire to thank Ultimate Typing™ purchasers for promoting and supporting the software from day one. In deciding on what bonus to offer its customers, the company researched its options and concluded that the Microsoft Office Productivity Tips and Tricks ebook would be the best choice, since it perfectly complements the skills Ultimate Typing™ already covers.
In the brief statement released today, eReflect's company representative announced that the offer will be running for a limited time and for that reason, people who are interested in purchasing Ultimate Typing™ are urged to do so soon to benefit from this offer while it lasts. The company explained that both Ultimate Typing™ and the Microsoft Office Productivity Tips ebook can substantially improve professional performance in little time and with even less effort, and hopes that its customers will enjoy the benefits that fast typing skills and optimized computer use will bring to their lives.
For more details on Ultimate Typing™, please visit http://www.ultimatetyping.com/.
About Ultimate Typing™
Ultimate Typing™ software is designed specifically for the improvement of typing skills. Created by eReflect, a world leader in e-learning and self-development software, Ultimate Typing™ has been informed by the latest developments in the science of touch typing.
Since its creation in 2006 by Marc Slater, the company has already catered to over 112 countries all over the world, offering products with the latest cutting-edge technology, some of which are among the world's most recognized and awarded in the industry.