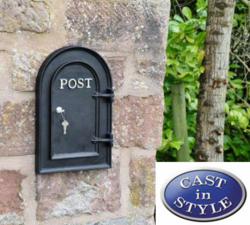 (PRWEB UK) 24 June 2013
Period iron mongers, Cast in Style, have announced that some of its existing best-selling products will soon be receiving diverse new ranges, just in time for the sunnier summer months. These exciting additions include new post boxes and clothes airers, and will increase what is already an extensive selection of indoor and outdoor period style products.
The crème de la crème of their latest selection is the new Oxford through-the-wall post box. This classically styled letter box is painstakingly crafted from cast aluminium, giving it a durable feel yet making it much lighter that the other cast iron alternatives.
The post box is a timeless feature for any home, and acts as the perfect alternative to an outdoor mailbox for those without the space. The unit's most enticing feature comes in the form of the inner box which works much like a telescope. The box slides into itself to expand once fitted in order to ensure the cavity is sealed shut and weatherproofed.
The new Oxford post box model is sure to please homeowners and builders alike, as its relatively lightweight build allows it to be fitted easily and its expanding steel liner means that it fits perfectly in place, and once it's put in place it's there to stay.
Among the other products announced is a new three lath clothes airer, which Cast in Style are branding the 'Tri-Maid' Clothes Airer. The cast iron end of the wooden laths has been completely remade from an original Victorian casting, giving it a fantastically classic design. The 'Tri-Maid's compact structure also makes it a great space-saving alternative to the standard sized models available.
Cast in Style has one of the largest product ranges for traditional clothes airers and racks, all of which offer their users an ecological and economic alternative to drying their clothes.
A spokesperson from the company had this to say on the new products: "We are delighted to be able to offer our customers the wonderful new Oxford Post Box. People will love its intricate cast aluminium features, and builders love this post box as it is so easy to fit, expanding to fit securely in space. Cast in Style are also excited to showcase the new 'Tri-Maid' 3 lath airer. It's a really fantastic design and we think it will be a great alternative to our normal models because of its compact design."
These new products will be available from the Cast in Style website from the end of July onwards.
About Cast in Style:
The Original home of the pulley clothes airer, Cast in Style offers a wide range of quality crafted period home and garden ware. Having been in the cast iron industry for many years, Cast in Style are experts in Cast Iron and period home architectural hardware.