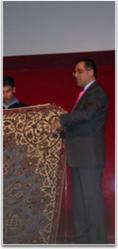 Described as 'a captivating evening' Arash regularly tours the country giving talks to local communities.
(PRWEB UK) 21 June 2013
Arash Karimzadeh, owner of the Pars Rug Gallery, is an expert on the subject of Oriental rugs and carpets. Recently he has given a number of talks on the subject and has also lectured at the British Museum – see photo.
Arash is the fourth generation of his family to be involved in the business and as a History scholar he is passionate about passing on the finer details of how to recognise the various rugs from all over the world and particularly from the Caucuses where his family comes from originally.
He is available to talk to audiences from as few as 20 up to 250+ and he has a wealth of knowledge in this subject to share. The talk lasts about 45 minutes and is illustrated with slides as well as a number of rugs which he brings with him to engage the audience.
Guests are invited to experience the quality of the weaving and design by touching the silk rugs and asking questions about the design and craftsmanship in the various rugs he brings with him.
For more information or to book a talk, we invite you to contact: 01794 524040 or email pars(at)orientalrug(dot)uk(dot)com