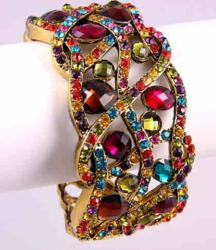 Glenview, Illinois (PRWEB) June 20, 2013
Unique Jewelry and Gifts.com, an online retailer of quality fashion jewelry and accessories since 2005, has launched a dramatically redesigned website. The new website enables visitors to find what they're looking for with greater ease. To help celebrate the launch of the new site, Unique Jewelry and Gifts.com is offering free shipping on all orders, via USPS First-Class mail.
New site features include browsing by category, thumbnail views of each product with optional larger images, alternative views, related product and accessories and stock status. Enhanced check-out features include order progress, thumbnail display image for each item being ordered and expedited USPS shipping options.
"Our goal was to provide a visually striking user-friendly design which allows for increased personal interaction and accessibility. Customers also will have the option of creating a login for future orders and will be able to review their order history with us," said Marianne Crabtree, Creative Director.
Smoother navigation, product search capability, better organization of products and optimization for users on mobile and tablet devices all contribute to a great shopping experience. Added features include a product category search and the option to join our mailing list.
"With the new design layout, we hope to engage new visitors and bring them an improved user-friendly experience with a more modern look and feel," adds Crabtree.
Our jewelry selections include fashion forward colors such as turquoise, ruby, mint, citrine, red, sapphire and blue." "Orders arrive beautifully gift wrapped at no additional charge," said Marianne Crabtree, Creative Director.
To learn more about our line of fashion jewelry, fashion accessories and gifts, please visit UniqueJewelryandGifts.com.