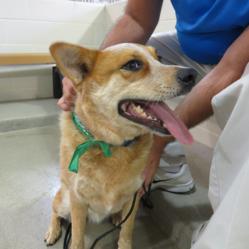 Dayton, OH (PRWEB) June 21, 2013
The Montgomery County Animal Resource Center in Dayton, Ohio set a record during the week of June 10, 2013 with 96 pet adoptions. The MCARC reached full capacity due to an animal recovery effort earlier this month in West Carrollton, Ohio with the removal of over 30 animals from a condemned property.
The MCARC reached out to the public for help to ease overcrowding by waiving all standard dog adoption fees and offering a "Name Your Donation" promotion. The MCARC required that a current Montgomery County dog license be purchased at the time of adoption for $20. Additional testing and services were available at regular rates. Adopters were encouraged to make a donation in lieu of the regular adoption fee to help the MCARC adopt as many dogs as possible. (The regular adoption fees are $140 for dogs and $165 for puppies five months and younger.) Cat adoptions were reduced to $10. At the end of the promotion, 73 dogs and 23 cats had been adopted, a one-week record for the MCARC.
In addition, the MCARC received thousands of dollars in donations for its "Tiny Tim Fund" that provides care for abused and neglected animals in Montgomery County, Ohio.
The Montgomery County Animal Resource Center is located at 6790 Webster Street in Dayton, Ohio. Visit http://www.mcohio.org/animalshelter for more information.