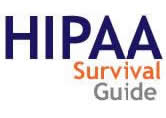 Carlos Leyva, CEO of 3LP, says: "3LP continues to deliver innovative compliance products with the release of our Omnibus Rule Ready™ suite of Training Modules. Our compliance products deliver on the promise of "news you can use."
Tampa, FL (PRWEB) June 25, 2013
3Lions Publishing, Inc. (3LP), the owner/operator of the HIPAA Survival Guide, is pleased to announce the release of a complete suite of HIPAA Omnibus Rule Ready™ Training Modules. The Modules are available for purchase in the HIPAA Survival Guide Store along with a Subscription Plan and a full suite of additional Omnibus Rule Ready™ offerings. The Omnibus Rule is a significant update to the HIPAA Rules: including the Privacy Rule, the Security Rule, the Breach Notification Rule, and the Enforcement Rule. All of these Rules have been updated to reflect Omnibus Rule modifications.
3LP's Training Suite will get you and your staff up the HITECH/HIPAA/Omnibus Rule learning curve. Each HIPAA Training Module comes with a video, PowerPoint slides, a quiz, and an answer key. All of the Training Modules are suitable for both group and one-on-one training. Training collateral is provided in editable formats because 3LP understands that many customers may want to customize our offerings to their unique organizational requirements. 3LP understands how to take the HITECH/HIPAA regulatory maze and make it accessible to individuals of varying expertise. Hundreds of lawyers, consultants, compliance officers and others have purchased these products.
Carlos Leyva, CEO of 3LP, says: "3LP continues to deliver innovative compliance products with the release of our Omnibus Rule Ready™ suite of Training Modules. Our compliance products deliver on the promise of "news you can use" at a time when HIPAA compliance has been radically transformed. Our products are 'swipe and go' priced to be economically affordable for healthcare stakeholders of all sizes, industry wide."
About 3Lions Publishing, Inc. (3LP)
3LP focuses on publishing online context sensitive content within well-defined subject matter domains, such as healthcare. The HIPAA Survival Guide is 3LP's flagship product. It is an established authoritative site that supports thousands of visitors each day. 3LP is located in the greater Tampa, FL area. To learn more about 3LP, visit its flagship site at http://www.hipaasurvivalguide.com.