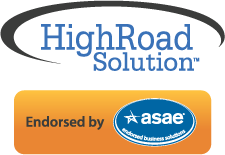 We were so successful that we were able to donate a portion of our registration fees to the Military Officers Association of America's scholarship fund as a way to show our appreciation. --David Caruso, CEO & Co-Founder
(PRWEB) June 21, 2013
HighRoad Solution, the preferred provider of integrated eMessaging solutions to top association and non-profit organizations, held its first user group conference last week at the headquarters of the American Society of Association Executives (ASAE). HighRoad Solution's email marketing is the only email product endorsed by ASAE Business Services and used across the association for all electronic communication.
The hybrid event was held in ASAE's Conference Center and allowed more than one hundred association marketing and technology professionals to meet face-to-face or watch the event through their web browser through live-stream video, a service offered by HighRoad Solution. The event offered a mobile app provided by sponsor Avodigy, as well as included an area set up with laptops to allow attendees to learn how to code responsive email templates.
"Responsive design was one of the key areas that we focused on," stated Ron McGrath, CTO and co-founder. "Understanding responsive design was the number one area that our users wanted to learn about based on our pre-event survey. We discussed how important it is to design for members' on-the-go lifestyle and then offered a hands-on lab experience to take our users through the template changes needed for responsive design."
"Establishing a user group and designing its inaugural event is a challenge when your client base is composed of the top association and non-profit marketing and technology professionals in North America," explained Suzanne Carawan, Chief Marketing Officer, HighRoad Solution. "We were successful solely because we heavily surveyed our users pre-event and designed the event based completely on the content, format and session length our clients wanted."
The one-day conference was deemed a success by David Caruso, CEO and co-founder of HighRoad Solution. "The event turned out better than we could have hoped. In fact, we were so surprised at the number of attendees that we donated a portion of the fees to the Military Officers Association of America's (MOAA) scholarship fund. MOAA was our first client to sign up to attend the conference and we wanted to show our appreciation."
To experience the first HighRoad Solution user group conference, visit the video archives to watch the recorded version of the live-streamed event.
About HighRoad Solution
Founded in 2005 by technology industry veterans, HighRoad Solution provides integrated eMessaging solutions to associations, non-profits and educational institutions. Offering expertise and pre-packaged integrations to the leading association, engagement and content management systems used by premier organizations, HighRoad provides software and professional services for eMail/eNewsletters, Virtual Events, eSurveys, Fax, Text, Voice & Mobile Messaging.