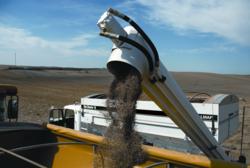 Working together, Radius Steel Fabrication and AGCO deliver what farmers or fertilization service providers need to farm not just effectively, but successfully.
Sioux City, Iowa (PRWEB) June 19, 2013
Agriculture is a major industry in the U.S., employing 14% of the U.S. workforce and utilizing 40% of our country's landmass. Today, farmers require knowledge in biology, agronomy, mechanics, and business. They study the soil for the nutrients that crops require. Their business depends on getting fertilizer applied quickly, efficiently, and often within narrow windows of time.
With a reputation throughout North America for manufacturing quality equipment, Radius Steel – SOO Tractor is pleased to announce that it has entered into an agreement with AGCO of Jackson, MN. AGCO is a manufacturer of agricultural equipment including dry fertilizer spreaders and tenders. Growing crops is a complex business and the machinery that farmers or fertilization service providers use is key to increasing the productivity of the land and operating their businesses efficiently. AGCO's Willmar brand of spreaders and tenders are considered unsurpassed among application equipment.
Radius Steel Fabrication has the capabilities to manufacture the complete product. As a turn-key manufacturer, Radius Steel provides complete OEM, original equipment manufacturers, services including fabrication, welding, advanced blast and powder paint technologies, and the complete assembly and shipping of customers' products. Radius Steel can assemble nearly any piece of equipment, fixture, or special tool using both manufactured parts and sourced parts. Company President, Allen Mahaney states, "AGCO Jackson's operation is growing with building tractors and sprayers. Radius Steel - SOO Tractor's strength is manufacturing complete serialized products. We can build the complete spreader and tender and still be priced competitively with the highest quality."
In addition to the replacement of vital field nutrients after each planting season, soil erosion caused by water or wind is a major environmental concern in soil preparation for crop planting. Erosion removes the nutrients and fertility levels of soil, which directly correlates to crop yields. Today's improved crop varieties and field fertilization contribute to maximizing crop quality and production.
Strategic knowledge of plant science, crop and soil management, mechanics, and business management skills are vital in the narrow profit margin farming industry. For most farmers or service providers, the cost of equipment is the largest production expense. They evaluate performance, capacity, and life expectancy of equipment when making a purchase. Made from stainless steel and corrosion-resistant material, the AGCO Willmar spreaders and tenders' high performance, load capacity, and customizable configurations give customers the tools to increase productivity and improve their bottom line. A substantial benefit to moving the spreader and tender manufacturing to Radius Steel is that they have the capability to powder coat equipment. Powder coating provides farmers increased paint durability prolonging the life of the spreader or tender.
Growth in the steel fabrication industry depends on strong innovation and a dedicated focus on quality. Radius Steel's Engineering and Research Department is crucial to the company achieving consistent quality and cost effective production of full products, prototypes, and custom parts. "Our engineering department can redesign the products and lab or field test them to meet the demands of the market for our customers," says CEO, Ida Covi. "Working together, Radius Steel Fabrication and AGCO deliver what farmers or service providers need to farm not just effectively, but successfully."
About Radius Steel – SOO Tractor:
Radius Steel Fabrication - SOO Tractor is an established and leading steel fabrication company in the United States producing exceptional products for a range of classic brands, amongst them, Massey Ferguson, AGCO, Hesston, Challenger, Weldco-Beales, Wil-Rich, Willmar, SmithCo / Side-Dump, and Silent Drive.
Radius Steel Fabrication - SOO Tractor was established in 1941 to meet the needs of the agricultural machinery industry and has become renowned for the quality of its customized steel fabrication; setting new standards of environmental protection and exceeding the requirements of its clients and partners. We are proud of our ISO 9001, CWB 47.1 Welding certifications, and in the satisfaction of our customers.
Radius Steel Fabrication – SOO Tractor's tradition of excellence provides customized fabrication integrated with electronics and cutting-edge technology to an expanding range of industries - amongst them, Agriculture, Telecommunications, Military/Defense, Heavy Equipment/Construction, Refuse, and Oil and Gas.
For more than 70 years of service, Radius Steel Fabrication - SOO Tractor's core values are strong: We believe in providing exceptional quality; we believe in the value of "American manufacturing"; we believe in being the best at what we do."