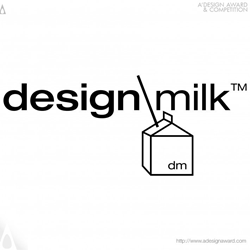 Como, Italy (PRWEB) June 22, 2013
A' Design Award and Competitions are pleased to announce that Design Milk by Jaime Derringer has been announced as a winner of the famed Platinum A' Design Award in Digital and Broadcasting Media Design Category and highlighted as one of the winners by the international jury members of the A' Design Award & Competition within many of projects.
Concerning Design Milk
Design Milk is an online magazine dedicated to modern design that covers a broad range of areas including architecture, home furnishings, art, technology, and fashion. Our highly curated and hand-picked designs and our original features, such as weekly designer interviews, product process articles, and creative regular postings attract millions of readers from around the world. Design Milk is the only global online magazine to offer the absolute best in modern and innovative design in a large variety of categories intermixed with inspiring original content.
To learn more about this project, please visit: http://www.adesignaward.com/design.php?ID=27776.
The Platinum A' Design Award
The Platinum A' Design Award is a prestigious award given to top 1% percentile designs that has accomplished an exemplary level of greatness in design. The designs are judged by a panel of three different jury which is composed of Academic, Professional and Focus Group Members. The designs are evaluated with score normalization to remove any biases and are voted on aspects such as functionality, ergonomics, engineering, presentation, innovation, usability, fun details, technology, and any other specific points that could be considered, each of these points are further weighted for different jury groups.
About A' Design Award and Competitions
A' Design Award and Competitions, aims to highlight the excellent qualifications of best designs, design concepts and design oriented products. A' Design Award and Competitions are organized and awarded annually and internationally in multiple categories to reach a wide, design-oriented audience. Learn more: http://www.whatisadesignaward.com.