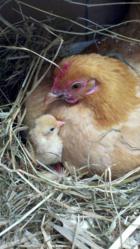 (PRWEB) June 19, 2013
A photo of a prizewinning Nankin Bantam and her new baby won May's "Cutest Bird Family" category in the USDA-sponsored Cutest Bird Contest.
"My daughter Camille, who is 14, raises these show birds," says Michele Ledoux. "She is a member of the 4H club and this is her project." Honey, the bird pictured with her chick, is a grand champion 4H bird. They will be featured on the Biosecurity For Birds website until the June winners are posted.
Residents of Croghan, NY, the Ledoux family own a diversified livestock farm that is a Community Supported Agriculture (CSA) site, one of more than 13,000 across the country. A CSA is an alternative, locally-based economic model of agriculture and food distribution. Subscribers sign up to support the farm and can get fresh food there all year long. The Ledoux farm supplies eggs, fowl, beef, pork, and lamb.
The entire family is involved. Camille also raises 100 laying hens. Her brother Jake, 17, manages turkeys and broilers.
But family dotes on the Nankins, who are strictly show birds. "They are the sweetest, calmest birds you'd ever want to have," says Ledoux. "Camille hasn't named the chick. We're waiting until she develops a personality."
The Cutest Bird Photo Contest ends June 30. The winning photos will be posted on the Biosecurity For Birds website and will be considered for inclusion on the 2014 Biosecurity For Birds Calendar.
The Biosecurity For Birds program, begun in 2004, is designed to educate backyard poultry owners and bird enthusiasts about highly contagious poultry diseases and other threats to birds. The program helps inform bird lovers how to prevent disease and tells them what to do if they suspect their birds might be ill.
Media representatives may contact Joelle Hayden at joelle.r.hayden(at)aphis(dot)usda(dot)gov (301) 851-4040 or Pam Goldstein at pgoldstein(at)diversitymc(dot)com 973-377-0300, Ext. 14