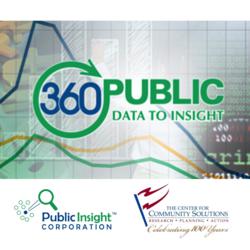 It is a rare opportunity to both further our mission and strengthen our financial sustainability.
- John Begala,
Executive Director
The Center for
Community Solutions
Hudson, OH (PRWEB) June 20, 2013
The Center for Community Solutions and Public Insight Corporation have signed a partnership agreement to enhance the 360-Public (http://www.360-public.com) public data platform. The new partnership means that critical data will be more readily available to a broader audience in a more informative format that will expand upon The Center for Community Solutions mission.
360-Public is a free web-based public data platform that provides easily accessible public information including demographic, economic, social, crime, housing and financial data. 360-Public enables users such as citizens, market researchers, government officials, public school officials, and non-profit organizations to access, understand, and utilize information from any city, school district, or zip code with the help of interactive web-based tools. Visitors to the website can learn about any area in which they are interested within Ohio by comparing metrics or building their own studies, using public data from trusted organizations such as the US Census Bureau and state sources. Plans are to expand 360-Public nationally by the end of the year.
The Center for Community Solutions identifies, analyzes, and explains community issues, and proposes nonpartisan recommendations in order to improve the lives of Ohioans. Founded as the Federation for Charity and Philanthropy in 1913, The Center for Community Solutions has been an integral part of the creation and implementation of numerous social welfare programs, which provide aid and assistance to countless disenfranchised Ohioans.
The Center for Community Solutions will use 360-Public to build research studies and analyze public data, allowing it to better identify social problems and the areas most afflicted by them. The ability to compare data from region-to-region will allow the organization to more accurately assess the economic, demographic, social, and financial landscape of the State of Ohio, and support its research with online analysis. As part of the partnership, The Center for Community Solutions is participating in the current round of fundraising by Public Insight, and will serve as the preferred provider of public data consulting services.
According to John Begala, Executive Director of The Center for Community Solutions, "Typically non-profits and for-profit companies find it difficult to find a basis on which to collaborate. But the 360-Public platform will enable us to reach a wider audience with public data and provide a tool to better inform the public of critical issues affecting health and social conditions and services. It is a rare opportunity to both further our mission and strengthen our financial sustainability."
About 360-Public
360-Public is a web based service that compiles public data into a single, analytic platform for use in researching markets, informing public citizens, sustaining communities, and empowering governments. 360-Public is free to the public with paid subscriptions for broader, more advanced analysis and applications.
About Community Solutions
The Center for Community Solutions provides strategic leadership and organizes community resources to improve health, social, and economic conditions through applied demographic research, nonpartisan policy analysis and advocacy, and communication.