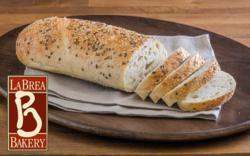 baked golden brown with a combination of flecks of millet, flax seeds, toasted sunflower seeds and rolled oats
LOS ANGELES, Calif. (PRWEB) June 25, 2013
La Brea Bakery®, the nation's favorite artisan bread brand, has introduced a new all natural, hearth baked Italian 5 Grain Loaf that is now available at Jewel Stores located throughout the Chicagoland area.
Made from La Brea Bakery's original starter and baked golden brown with a combination of flecks of millet, flax seeds, toasted sunflower seeds and rolled oats, the new Italian 5 Grain Loaf is deliciously wholesome. A pinch of cornmeal and white rye flour help enhance the rich yet subtle flavor. The toasted grain aroma, soft texture and distinct appearance all add to the appeal of this soon to be classic, lightly grained loaf.
"If you're a fan of traditional Italian breads than you should really try our Italian 5 Grain Loaf," said Jennifer Johnson, Brand Manager, La Brea Bakery. "This savory bread, lightly toasted with butter, serves as a delicious complement to your morning eggs, or the perfect starting point for your favorite sandwiches or panini."
La Brea Bakery is continually ranked as the premier artisan bread brand in the country. Founded by renowned pastry chef Nancy Silverton in 1989, La Brea Bakery is recognized for its commitment to offering only high-quality and authentic culinary experiences to consumers and foodservice professionals. The bakery operates a flagship storefront in Los Angeles, CA, in addition to a casual dining restaurant in Anaheim, CA. La Brea Bakery is owned by ARYZTA, a leading manufacturer and distributor of bread, buns, cookies, pizza and other premium baked goods.
For more information about La Brea Bakery breads and baked goods, visit http://www.labreabakery.com.