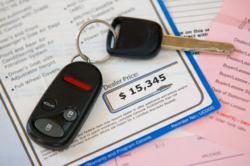 Very few people think to find out how much their insurance will be when they go car shopping, and it can result in a surprise when that bill comes in.
(PRWEB) June 19, 2013
A car is a major purchase and a big investment, so taking the time to consider options and shop around is vital to ensuring the right decision is made. Following a few tips from InsuranceHotline.com will help car buyers find a good, reliable car and also save money on both the purchase and on car insurance. Buying a car has two phases: preparing, and shopping.
Phase One: Preparing For Car Shopping
Buying a car is a process that should take some time and consideration. Unfortunately all too often buyers get a little too excited about that new car smell and buy without due thought, which can result in buyer's remorse as well as higher payments than budgeted for. Before even start looking at cars, consider:

Whether to buy new or used
What the budget is for monthly payments
What features are most important
How insurance will be impacted
Who will drive the car and for what type of use
New or Used
Buying new or used can be a difficult choice, and there are pros and cons to each. A new car is likely to get a better finance rate, which means paying less interest and more principal. New cars also come with warranties, and may have other perks like free roadside assistance.
Used cars will generally cost less, and have already taken the initial depreciation hit. The lower value can make them a little cheaper to insure. Although many pre-owned cars don't come with a warranty, some do; dealers sometimes offer warranties on pre-owned vehicles, and some may have some time left on the original warranty.
Budget
When deciding how much to spend on a car, it's important to think of it terms of monthly payments and not so much on the total purchase price. Many things can affect how much you pay each month for your car, including the down payment and the interest rate. Determine what is affordable to pay each month and stick to that budget.
Which Features Are Most Important
Safety features are big on the minds of most car shoppers, and buyers should look to get a vehicle that offers as many safety features as possible. There are many other features, however, that can be prioritized so you know what you're willing to pay more for and what doesn't matter as much. Consider things like:
the car stereo
sun and moon roofs
leather versus cloth seats
seat heaters
navigation systems
These and other common features that can make the cost of that car add up fast. Make a list of the must-have features, those that would be nice to have, and those are not mandatory.
Insurance Impact
Very few people think to find out how much their insurance will be when they go car shopping, and it can result in a surprise when that bill comes in. Most insurance companies will be happy to provide insurance quotes on some of the cars you're considering for you so that buyers can make an informed decision and not wind up with the insurance cost hurting your budget.
Who Will Drive The Car, And For What Purpose
Consider who will use the car most and what their needs are when you are looking at what type of car to buy. It will help determine what is really needed in a car and what might not work. Someone who does a lot of driving alone will probably want a smaller car with good gas mileage. Someone who drives the kids around a lot needs a spacious backseat and easy access.
Phase Two: Shopping For a Car
With a good idea of what is needed and what is affordable made clear, buyers can start shopping for that new car. During the shopping process, take a few steps to make sure to get the right car:
Compare the cars on a short list
Do some research on the cars
Shop around for car insurance quotes on the chosen car before buying
Compare Models
Test-drive several different makes and models so that you can compare them. Look for the model that gives you the best combination of features for the best price. Compare the same model new and used as well to determine if it's really worth paying a higher price for a new car.
Do Your Research
The internet makes it easy to research the car. Read reviews from owners of the car as well as consumer reports and crash test ratings. If buying a used car, request a vehicle history report that will state if the car has been in any accidents. Most used car dealers will provide this upon request. Doing research before buying will avoid any surprises later.
Shop Rate Around
Once you decide on a car, there's one more thing to do before signing on the dotted line. There are two rates to should shop around for when buying a new car. First is the car insurance rate. Buying a car is a good time to shop around and compare auto insurance quotes; drivers may find that they could be paying a lot less. If financing the car purchase, the second rate to shop around is the interest rate. There may be better deals going straight to a bank or credit union than taking what the dealer offers.
By taking time in both the preparation phase and the actual shopping phase, buyers can make sure they buy the right car, a car they can afford, and don't have any surprises on their insurance bill or anywhere else.