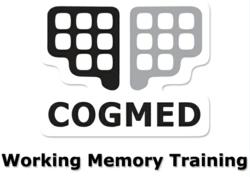 Bloomington, MN (PRWEB) June 19, 2013
Pearson today unveiled Cogmed Working Memory Training 3.0 for Health Care Professionals. This latest version of the evidence-based intervention, with powerful new features, targets working memory capacity to improve learning and attention problems in people of all ages. Originally developed at Sweden's renowned Karolinska Institute, Cogmed is a complete online solution combining cognitive neuroscience, innovative computer game design and close professional support to deliver substantial benefits to users. Mental health professionals around the world have used Cogmed successfully for nearly a decade.
Through July 15, 2013, new and existing Cogmed providers are eligible for a special promotional offer; see http://www.cogmed.com/healthcare for more information.
New features in Cogmed 3.0 for Health Care Professionals include:

Cogmed Progress Indicator: A real-time progress-monitoring tool that allows health care professionals to easily access and respond to improvement in the user's working memory while the training is under way, not just at completion.
Automatic Notifications: Intelligent alerts improve oversight and compliance while saving time and effort for the coach. With Automatic Notifications, the program scans all trainees' progress continuously throughout the day, and then alerts the coach for key training events.
Cogmed Questionnaire: Integrated self-rating questionnaires assist coaches in assessing the improvements in attention and behavior that occur through training, as well as trainee motivation.
Apple® iPad and Android Tablet Support
Mandatory Breaks: Provide automated guidance to trainees when they show signs of learning fatigue, to help them regain focus and continue most effectively with their training.
Variable Protocols: Now in beta, allow the option of choosing the number of minutes per training session and the number of days of training per week for each user.
Sheldon Kaplan, Ph.D., a licensed psychologist in Jacksonville, Fla., who specializes in working with children, adolescents and families, has been using Cogmed in his clinical practice and in three private schools since 2011. "We're seeing nearly every child improve and actually maintain the results. The children, as well as their parents and teachers, are very happy with the gains in organization, concentration and achievement in school," he said.
One young man he trained with Cogmed calls periodically to check in. "He is doing quite well at a major university and cannot believe the difference in his skills," he said.
Kaplan is looking forward to making use of all the enhancements now offered in Cogmed 3.0. The Cogmed Progress Indicator, which became available earlier this year, is proving to be a helpful feature for keeping a close eye on progress during the training sessions. He also welcomes the iPad and Android tablet support.
Kaplan is about to begin administering Cogmed training to three siblings, all with different behavioral challenges. Cogmed 3.0's variable protocols give the family the option of altering the length and frequency of any of the children's sessions, if necessary, to best meet all of their needs.
"Children and adults alike are seeing tremendous lasting gains in their ability to concentrate and stay on task, whether in school, the workplace or other pursuits," said Travis Millman, Pearson's vice president and general manager for Cogmed. "The latest features in Cogmed 3.0 enhance the program's ability to help people function at a higher level and achieve their goals."
More than 30 peer-reviewed research studies demonstrating Cogmed's efficacy have been published in well-respected, juried publications, such as the "Journal of Child Psychology and Psychiatry" and the "Journal of Pediatrics." A 2011 study, published in "Science" magazine, concludes that Cogmed is the most researched training program for executive function available today.
About Pearson
Pearson is the world's leading learning company, providing educational materials and services, business information through the Financial Times Group, and consumer publishing through the Penguin brand. Pearson serves learners of all ages around the globe, employing 41,000 people in more than 70 countries. For more information, visit http://www.pearson.com.
Contact:
Wendy Spiegel
Pearson
wendy(dot)spiegel(at)pearson(dot)com
800-745-8489