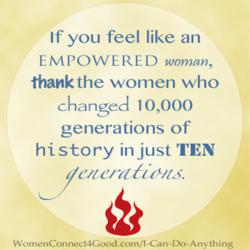 If you feel confused sometimes, don't feel bad. Women–-and our partners and our employers and our leaders–-are making this up as we go along.
Montecito, CA (PRWEB) June 24, 2013
Women should take pride in the progress they have made in empowering themselves. Step back to put this in perspective for just a minute by reading our new series of empowerment blog posts.
Many women today feel discouraged that their wages still lag behind those of men, that they have few seats in the C-suites, and that they still fill such a small proportion of elected government offices in the United States. In this new seven-part blog series, the Women Connect4Good Foundation urges women to put this in perspective. Although progress may feel slow, women have accomplished tremendous strides in just 10 generations, which is the blink of an eye compared to the history of humans on earth.
The first post in the blog series sets this out. "Over 200,000 years ago the first anatomically modern humans appeared on earth. For most of the past 199,800 years, women were essentially property belonging to men, much like a chair or a horse. They had no rights to their children, could not own property except by the grace of a father, husband or brother, nor could they get an education. Most professions were closed to them."
That was women's position for 10,000 generations, which is a lot of history and tradition. All those years of roles and social structure are written in human DNA as well. From that point of view, change has occurred very quickly, and it's no wonder the changes have caused social unrest and confusion.
The first blog post in the series continues, "As recently as 1804, women were classified as legal minors, along with criminals, children and the insane. Today, women are among the richest people in the world and run huge corporations. They work in every profession and outnumber men in the workplace, can marry and divorce, hold more college degrees than men and even hold the highest government office in many lands. Women's organized efforts have developed the hospitals, schools, museums, libraries and social supports that enrich our communities' civilized life."
The message, according to the blog series, is that women need to congratulate themselves on their gains and then join hands with other women to continue making progress. In areas where women in the United States have made great progress, they need to reach out to extend those gains to women in developing countries who still lag far behind.
Dr. Nancy D. O'Reilly, founder of Women Connect4Good Foundation, urges women and the men who support their efforts not to feel discourage that women have not achieved total equality. Women and men are working on the structures of families, businesses, educational institutions and governments to create a more equitable world that taps the talents and skills of 100 percent of the population. They hope for more opportunity for themselves and their daughters. "If you feel confused sometimes, don't feel bad," Dr. O'Reilly says. "We, and our partners and our employers and our leaders, are making this up as we go along. It's only taken 10 generations of women to change the patterns of 10,000 former generations."
Other articles in the seven-part Women's Empowerment Series discuss women's gains in Equal Rights, Marriage & Property, Education, Political Progress, Employment and Philanthropy.
News media are invited to use material from the blog series with proper attribution, and Dr. O'Reilly is available for radio and television interviews at the contact information provided.
Dr. Nancy O'Reilly and the Women Connect4Good Foundation are dedicated to educating women to improve their lives and the world.