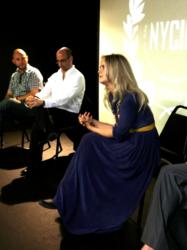 New York, NY (PRWEB) June 20, 2013
Executive Producer, Elspeth Kincaid with Balmoral Arts and Entertainment will be speaking at The Secrets of Film: Tips on the Industry, a Panel Discussion presented by the New York City International Film Festival, Friday June 14th and Tuesday June 18th at 2pm in The Producer's Club, 358 W 44th St., with a primary focus on Balmoral's business model in film finance. In 2012 Balmoral Arts and Enertainment opened up a European film fund which funds and co-funds private equity into films.
Elspeth Kincaid is an executive producer, and head of the New York office of Balmoral Arts and Entertainment; a newly acquired division of Balmoral Capital Holdings, Inc. Balmoral Companies operate as multiple trading facilities in the British Virgin Islands (BVI) and United Arab Emirates (UAE) teaming with accredited investors worldwide. With an adjacent division in solar energy, Balmoral has specialized in finance with emerging markets for over 25 years.
Beginning her career as an opera singer, Elspeth has a true sense of art and theater. She exudes unconventional elegance and artistic flair. Known for her sense of style, she not only is becoming an emerging public figure in many circles, but also making her debut as an actress in the film, American Royalty, a Balmoral Arts and Entertainment Production. This project is a historical feature film, that tells the story of the Kelly family, who originally emigrated from Ireland in 1869, becoming one of the most successful and prominent families of the 20th century. Family members include John Kelly, the Olympic champion; George Kelly, who won the Pulitzer Prize in 1926; and Grace Kelly, the Hollywood star, and later Princess of Monaco. Elspeth will be playing the role of Grace.