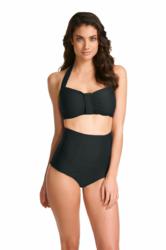 Desborough, Northamptonshire (PRWEB) June 21, 2013
Leia's website leialingerie.com allows women to buy lingerie online, buy swimwear online and buy sportswear online. Freya, Fantasie and Elomi, three of the popular brands featured on the site, each offer a selection of bra-sized swimwear.
1. Focus on your best bits
For women with an apple shape, Leia suggest opting for a swimsuit that covers up the tummy and draws attention to the areas women may be more confident with, such as the bust or legs. For example, Leia shoppers can choose high-waisted briefs from Freya's Showboat collection. The figure-hugging shape pulls attention to the smallest part of the waist, as the high leg lengthens the appearance of legs.
2. Choose a shaping solution
For more athletic body shapes, Leia say women could benefit from a curve-creating swim look. Their Freya Sunset Boulevard uses ruffles to boost curves, create volume around the bust and provide the illusion of an hourglass figure.
3. Skirt around a pear shape
Women with pear shapes can be flattered by wearing a ruched skirt brief style. Also available from Leia, the Freya Cha Cha skirted brief can be teamed with a bandless halter bikini top, which is designed to offer more cleavage.
4. Control for confidence
Many of the swim ranges feature secret control panels to offer more support and an enhanced shape. Madagascar by Fantasie, another of Leia's key brands, is a leopard print swimsuit with a medium control panel around the tummy area.
5. Stripes are slimming
Swimwear patterns can also create a more flattering shape. Fantasie Biarritz features horizontal navy and white stripes which channel the nautical trend. The stripes draw attention to the smallest part of the waist to suggest an hourglass shape.
6. Get a long-lasting look
One of the principal ways or any woman to achieve a satisfying beach look, according to Leia, is to choose swimwear that lasts. For example, their Fantasie Versailles collection incorporates Xtra Life Lycra to help the material resist suntan lotion, body oils, UV exposure and chlorine - enabling swimwear to keeps its shape for many more holidays to come.
About Leia
Leia has over ninety years of lingerie design experience and allows women to buy lingerie online and buy swimwear online – all whilst offering an affordable boutique experience. Sizes range from an A to a K cup. Leia principally retail through an online store, but they also have boutiques in York and Cardiff, as well as Kent's Bluewater shopping centre. To find out more about Leia, visit http://www.leialingerie.com