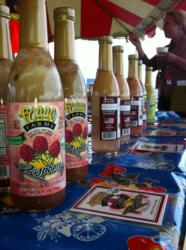 Specialty farms, dairies and locally prepared foods are on the rise in Pacific County.
LONG BEACH PENINSULA, Wash. (PRWEB) June 24, 2013
Tangy micro greens, peppery arugula, sun-sweet strawberries – fresh flavors abound this summer at outdoor markets on Washington's Long Beach Peninsula and throughout Pacific County.
"Specialty farms, dairies and locally prepared foods are on the rise in Pacific County," said Andi Day, Executive Director, Long Beach Peninsula Visitors Bureau. "Many of our producers are present at the seasonal markets making it super easy and always educational to meet and talk with those who grow and produce our food."
The newest and largest seasonal market is the Columbia Pacific Farmers Market, held in downtown Long Beach, on Fridays through Oct. 11, from 4 to 7pm. The market, which expanded this year, features an abundance of locally grown produce, goat cheese, flowers, fresh as well as prepared seafood, Peninsula-made preserves, sauces and other products, baked goods, organic cranberry juice, honey, horseradish, tamales, and more. Weekly, themed learning experiences such as Bees and Blossoms, Compost Happens, and Preserving & Winterizing, as well as a stage with live musical entertainment, makes this a great way to kick off a stay at the beach summer through fall.
Other seasonal markets include the following:

The festive Saturday Market at the Port, at the Port of Ilwaco, held through Sept. 28, from 10am to 4pm, with highlights including regional crafters, sizzling sausages, smoked salmon chowder, and farm-fresh bounty.
The lively Public Market on the Willapa, adjacent to the Northwest Carriage Museum in Raymond, open Fridays and Saturdays through Dec. 21, from 8am to 4pm, with an indoor and outdoor marketplace, fresh produce, chicken eggs, planters, jewelry and other locally crafted items.
The sweet, little Sunday Market on the Dock in South Bend, open through Labor Day, from 10am to 4pm, with items including jewelry, art, quilts, local produce, prepared food, and entertainment.
The produce and artisan markets are complemented by farm stands and seafood markets throughout Pacific County including Oysterville Sea Farms, Ole Bob's Seafood, Jessie's Seafood, Goosepoint Oysters, and others.
Cranguyma Farms offers a long-established (some 60 years) you-pick blueberry patch, abundant with juicy berries from mid-July into early October, when the you-pick cranberries begin. For those in a hurry, already-picked berries are often available.
Located two hours from Portland and a little over three from Seattle, the Long Beach Peninsula is a longtime favorite for those seeking easy access to wild places, great seafood, lively festivals, and affordable creature comforts. Famous for oysters and cranberries, the Peninsula boasts a wealth of talented chefs, a growing number of specialty farms, and is a showcase for Northwest cuisine. For details, please access http://www.funbeach.com or call the Long Beach Peninsula Visitors Bureau at 800.451.2542.