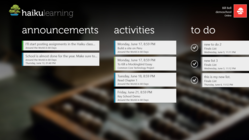 Haiku Learning's ability to generate and deliver video directly from Windows 8 devices allows teachers and students to connect even more seamlessly and simply than ever.
Goshen, IN (PRWEB) June 20, 2013
Haiku Learning announces its new Windows 8 Haiku Learning Platform App scheduled to launch at the International Society for Technology in Education (ISTE) on June 24. Haiku collaborated closely with Microsoft as it emerged as an important player in the learning management space with several high-profile schools running the Learning Platform on Windows 8, including the Lake Washington School District, Lakeside School, and Global Online Academy.
Haiku Learning CEO Bryan Falcón described the app as "a student planner that will allow students to access class content seamlessly, hand in homework, and keep track of both long- and short-term goals and activities in their classes."
In addition to giving students a powerful, interactive organizational tool, the Haiku Learning app for Windows 8 will take advantage of the fast and fluid user interface on Windows 8 devices. According to Falcón, "Windows 8 features a beautiful user interface. We want students and teachers to experience the most elegant user experience that our platform and Windows 8 can offer together."
"We're excited to support student learning with Haiku Learning's commitment to build on the Microsoft technology platform," said Anthony Salcito, Vice President of WW Education at Microsoft Corp. "Haiku has an important vision that supports our focus to have a positive impact on student learning, and our education vision of anytime anywhere learning for all."
Falcón said its collaboration with Microsoft will "extend the functionality of Haiku Learning by taking advantage of the increasing number of tablet and laptop one-to-one programs in our schools and districts." He added that support from Microsoft represents a shared vision and a determination to enable learning through the application of easy-to-use, powerful online tools.
Michael Nachbar, Director of the Global Online Academy commenting that "Haiku Learning's ability to generate and deliver video directly from Windows 8 devices allows teachers and students to connect even more seamlessly and simply than ever. With the capacity to capture and give nuanced feedback via video and audio teachers can build even stronger relationships with their students, which is the core of great teaching."
The Haiku Learning app for Windows 8 is scheduled for release June 24 in conjunction with the ISTE 2013, the largest conference for U.S. K-12 education technology. Falcón commented that "Haiku Learning is thrilled to be the first high-profile learning platform available in the Windows Store. It's an outstanding opportunity for educators at ISTE 2013 to experience next generation tools for digital learning in the classroom."
About Microsoft in Education
At Microsoft, we are deeply committed to working with governments, communities, schools and educators to use the power of information technology to deliver technology, services and programs that provide anytime, anywhere learning for all. For more information: http://www.microsoft.com/education
About Haiku Learning
Founded in 2006, Haiku Learning is an innovative cloud-based learning management system for K-12 students, teachers, and schools. Powering digital learning for more than 1 million students across the globe, Haiku Learning is known for simple approach and powerful integrations with other leading cloud services. For more information: http://haikulearning.com