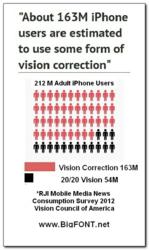 After finding it increasingly difficult to read the small print on my phone without searching for my reading glasses, I decided to create a superior mobile web browsing experience for "the rest of us" with less than perfect vision says Gerd Graumann
San Diego, CA (PRWEB) June 20, 2013
Vision loss has reached epidemic proportions. According to RJI and the Vision Council of America, last year approximately 75% of all adults used some form of vision correction, which affects about 163 million of the more than 400 million iPhone users.
People with mild to severe vision loss who are browsing the web on their small displays are facing a unique and specific challenge:

Mobile web pages like search engine results, news sites and many others don't let visitors zoom in, leaving out millions that can't read the tiny print size.
On regular web sites, text flows off the screen to the sides when zooming above certain levels, requiring visitors to move the page for every line they read.
With BigFONT for iPhone, users may set custom zoom levels for their native phone browser to increase even the tiniest print on many mobile and regular web sites to a comfortable reading size. Now everybody can enjoy large-size text that is automatically reformatted to stay inside the display, no matter how big it is. This eliminates left-to-right scrolling and allows for easy reading even at the highest zoom levels.
For the "offline" world of prescription bottle labels and restaurant menus with small print, BigFONT transforms your phone into a portable magnifying glass with zoom levels of up to 8-times the original size.
Other helpful features include 3D eye exercises that help protect your vision and reduce digital eye strain, plus an optometrist finder with patient review ratings and directions.
BigFONT was created by Speech Technology Group, a provider of speech recognition and text-to-speech solutions that help millions of people with vision impairments regain their independence and actively participate in the digital and analog world.
"After finding it increasingly difficult to read the small print on my phone without always searching for my reading glasses, I decided to create a superior mobile web browsing experience for "the rest of us" with less than perfect vision" says Speech Technology Group's president Gerd Graumann.
BigFONT just launched and is available for only $0.99 in the US and priced accordingly in other regions. The app can be downloaded worldwide on the App Store. Future enhancements will include text-to-speech technology.
Visit http://www.bigfont.net for more details
If you are looking for more information, or you would like to schedule an interview, please contact Gerd Graumann directly at BigFONT.