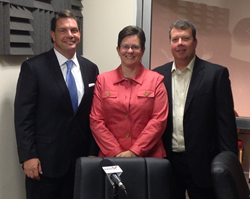 We are more than just networking, we are helping CFOs manage their careers.
(PRWEB) June 20, 2013
On June 18, 2013, co-hosts Lee Kantor and Stone Payton of Results Matter Radio on Business RadioX® were joined by Chris Arndt, Sara Jones and Doug Hooper, Board Members of Financial Executives International(FEI), Atlanta Chapter to talk about the organization and its members.
Financial Executives International is the national association of choice for financial policy-making executives, comprising the strongest financially oriented management organization in the country. FEI is the most effective spokesman for the private financial sector of the business community to governmental, regulatory, professional and academic communities. The Atlanta Chapter of FEI was established in 1944 and currently is pursuing additional qualified members from the Atlanta metropolitan area to add to its roster of 250 senior financial executives. The chapter has representatives from major public and private companies, mid-size, and rising developmental firms in the area, across all industries.
As the Director of FEI Atlanta, Chris Arndt is an executive with an MBA in Finance and a blend of financial and operations expertise gained over 20+ years of executive management, complemented by top tier turnaround. Arndt has Big 4 consulting experience spanning diverse industries including health care, information technology, retail, and manufacturing.
Next on the panel was Doug Hooper, the Chief Financial Officer at Dew Learning. Hooper is a Senior Operations and Finance Executive with more than 20 years of success integrating finance, operations, business metrics, and business processes to facilitate strategic decision making and drive financial and business performance. According to Hooper, "I joined FEI Atlanta for the access to people, the access to information and the access to networking." Hooper has served as a Board Member for the past ten years.
As Board Members, Arndt and Hooper have re-designed the Career Services group, moving more towards a career management tool. Explained Arndt, "We are more than just networking, we are helping CFOs manage their careers."
Rounding out the discussion was Sara Jones, the EVP, CFO for BBDO Atlanta Inc. where she manages agency operations such as Accounting, Broadcast Production, Print Production, Project Management, Studio Services, and Information Systems. Jones is a member of FEI National and serves as Secretary for FEI Atlanta. Jones described the benefit of belonging to FEI, "When you're in a group like FEI, you're in the room with colleagues, not competitors."
To learn more about Financial Executives International and the members featured on this show, listen to the complete interview on Results Matter Radio.
About Burr & Forman's Results Matter Radio:
http://resultsmatterradio.businessradiox.com/
Brought to you by Burr & Forman LLP, Results Matter Radio brings you pertinent business information and real life solutions to help drive desired results – whatever your business may be. We interview Business Leaders and Trusted Advisors about the most important issues in Commercial Real Estate, International Commerce, Healthcare, Family Business, Corporate Litigation, Finance, Philanthropy, Estate Planning, and more.
About Business RadioX®:
Business RadioX® provides a turnkey solution for business owners who want to leverage the power of internet radio to meet their best prospects, establish credibility for their organization and heighten the placement of their brand in search engines rankings. With a professional venue and a proven formula, Business RadioX® helps hosts podcast their shows and create a regular stream of dynamic content to share with their prospects and feed the search engines every week. Programs are recorded and streamed live to the internet from our studios in the greater Atlanta area. For more information or to hear a live show, visit: http://www.businessradiox.com.