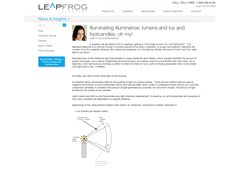 For retail stores and many other commercial enterprises, lighting is one of those expenses that can inadvertently place a stress on operations
(PRWEB) June 19, 2013
The new metrics of lighting include more than just lumens and watts, reports Leapfrog Lighting News & Insights. With LED lamps becoming the new mainstream, there's more to deciding on a bulb than energy consumption:
"Illuminating illuminance: lumens and lux and footcandles, oh my!"
A question often asked by businesses considering LED lamps is "How bright is your LED light bulb?". The standard response is to cite the number of lumens specific to the lamp in question, or to get more specific, reference the number of lux for a specific distance. But unless the questioner is in the lighting industry, the terms "lumen" and "lux" often lead to confusion.
Manufacturers of the traditional light bulb decided to mass market the term Watts—which actually identifies the amount of power consumed—as a means of describing illuminance level. As a result, most of us are familiar with that metric. So to describe a LED light bulb as providing a certain number of lumens or lux is confusing. Read more...
"Energy Star rebates make sense for business"
Business owners understand the importance of operating cost effectively. The more money they save on unavoidable (but necessary) expenses, the more money they can put into their business—into directly affecting the bottom line. For retail stores and many other commercial enterprises, lighting is one of those expenses that can inadvertently place a stress on operations and prevent the business from reaching its main goal: profits.
Most people know that LED lighting is efficient. But many of those people also distrust the manufacturer's performance claims and recoil at the price per bulb in comparison to other lighting technologies, such as CFL or halogen. Read more… Read more...
"Are energy audits for retail stores a worthwhile investment?"
While energy audits were born out of the energy crisis of 1973, the industry exploded with the current threat of global warming and climate change. The purpose of an energy audit is to identify sources of energy loss in commercial, retail, or residential establishments and provide recommendations for maximizing efficiency and reducing consumption. But are energy audits in retail stores a worthwhile investment? Are these firms overstating their importance or are they providing a valuable service?
While most in the industry believe energy audits are valuable, standard advice is to differentiate between an auditor's main goal of reducing energy use, versus the goal of business: to increase the bottom line of procuring sales. Read more…
About Leapfrog Lighting
Leapfrog Lighting, is best known for specialized commercial-application LED lamps, for applications where consistent quality is important, such as: retail and display, interior and architectural design applications, industry and commercial space, facility management, hospitals, galleries and museums.
Leapfrog Lighting's lamps provide "improved glare control, light distribution and color consistency," said Canadian Federal Minister Gary Goodyear, at a recent press event announcing an investment in Leapfrog Lighting's ongoing research and development. The Minister of State for Science and Technology praised "measurable improvement on lighting quality required by facility managers, institutions, architects and retail businesses."
The current Leapfrog Lighting product line includes MR16, PAR30, PAR38 and PAR20 lamps that provide industry-leading output power through high-efficiency LED source and driver electronics. The innovative lens design creates a pleasing, glare-free light suitable for use in all indoor and unexposed outdoor down-lighting applications. The lamps also deliver the high CRI and ultra-consistent color temperature control critical to multi-lamp applications in hotels, restaurants, schools, office buildings, museums, galleries, retail operations and other public spaces. With a life expectancy of 40,000 operating hours, these UL-registered lamps will provide more than 27 years of service at 4 hours per day.