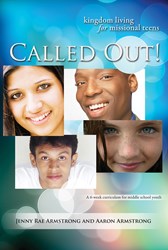 Minneapolis, Minnesota (PRWEB) June 21, 2013
Christians for Biblical Equality (CBE) has published its first youth curriculum. The curriculum, entitled Called Out! Kingdom Living for Missional Teens, has been written with 11-14 year old youth in mind to encourage a mindset that is focused on becoming active, missional participants within the church and world. Authored by Jenny Rae and Aaron Armstrong, the curriculum offers a theologically-rich outline of the missional narrative found throughout the Bible and Christian teachings.
As a leader in gender-conscious biblical scholarship, CBE is uniquely positioned to publish a curriculum that acknowledges the presence of gender issues in our everyday lives. Instead of focusing on gender roles, Called Out! encourages youth to discover and develop their unique gifts and calling.
Called Out! will equip students with practical ideas on how to live purposefully as part of the body of Christ. The curriculum is formatted as a series of six weekly lessons. Each lesson includes a short video, a Bible reading, a narrative overview of the Bible reading that focuses on the session's theme, discussion questions, and hands-on group activities. For more information on Called Out!, visit cbebookstore.org.
In its effort to advance a biblical foundation for gift-based rather than gender-based ministry and service, CBE sponsors annual conferences, facilitates local chapters, hosts an online book service, and publishes two award-winning journals. For more information, visit http://www.cbeinternational.org.