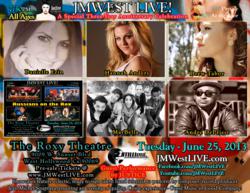 "These are wonderful people who have built something great for artists to be a part of." - Hannah Anders
LOS ANGELES, CA (PRWEB) June 19, 2013
JMWest LIVE! will be celebrating its three-year anniversary this Tuesday, June 25, 2013 at The Roxy Theatre on Sunset Boulevard.
JMWest LIVE!, a monthly live music showcase created by record producer Jean-Michel Soupraya, was founded in 2010 in an effort to create a welcoming environment where new and ready-to-sign artists would be able to perform their music without having to pay. The showcases are presented by JMWest Entertainment, an independent, Beverly Hills-based record label founded by Soupraya.
To date, over 100 solo artists and bands have performed at one of JMWest LIVE!'s 30+ shows and at venues including The Roxy, On The Rox, The House of Blues, Foundation Room and Parish Room.
"When I moved here, in 2002 (from France), I realized you had to pay to play," said Soupraya. "Artists can't make it alone. If everyone helps a little bit, that's where the magic comes from. And that's why I started JMWest LIVE!"
Artists who take to the JMWest LIVE! stage vary in style and experience—rappers and jazz musicians alike have performed, as well as artists who are still in the songwriting process, and others who have already released several albums. What they all have in common, however, is the quality and talent that led Soupraya to deem them "sign-able"—the primary criteria to perform.
"I really think Jean-Michel knows how to pick bands," said Stephanie Mata, doorman at On The Rox. "They're just always really solid bands and really good music. For the length of time I've been doing this—over 20 years—if I had a hat on, I'd tip it off."
The end result is an experience that brings only top quality performances to a room full of industry professionals, musicians, and, of course, fans. Through hard work and dedication, Soupraya and the JMWest team have provided an opportunity for gifted musicians, new talent, and other industry professionals to gather, discover and appreciate good music—all in good company!
"Think of JMWest LIVE! as a showcase for the artists we would have signed ourselves if only we were equipped to handle them all," said Jose Sanchez, Artist Development for JMWest.
This month's showcase features southern rocker Hannah Anders; singer/songwriter and YouTube sensation Drew Tabor; Brazilian band MarBella; soul singer Andre DePriest; LA singer Danielle Erin; and music from Russian bands Archangel, Long Day Too Short, Proseka, and Bratana. Surprises are also likely to fill the special night, including a performance from Billboard artist JUSTICE with her new Top 40 single "By My Side."
On occasion, exceptionally talented artists will perform at multiple showcases, Hannah Anders falls into that category. "I cannot say enough how proud I am to be a part of JMWest LIVE! and how great it has been to watch it grow so much over the last 3 years," says Anders. "I remember performing at that very first show and loving Jean Michel and his team so much. These are wonderful people who have built something great for artists to be a part of. I am so excited to perform at this anniversary show on the main stage at The Roxy! Well done JMWest!"
The showcase will take place at The Roxy Theatre. Pre-sale tickets are available at http://www.JMWestLIVE.com. For VIP admission, please email order(at)JMWestEntertainment(dot)com or call 855-2JMWest.
To submit your music or band for consideration at a future showcase, please send links only (no downloads) to info(at)JMWestEntertainment(dot)com.
To see clips from previous performances, please subscribe to the JMWest LIVE! YouTube page at http://www.youtube.com/JMWestLIVE or visit http://www.JMWestLIVE.com to join the mailing list.