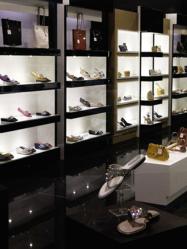 (PRWEB) June 21, 2013
Having only recently launched their exclusive online shopping boutique http://www.nicolishoes.com NICOLI is proud to announce yet another milestone with the launch of their flagship boutique in the Royal Plaza Mall, Doha, Qatar. Spread over 75 square meters, NICOLI is proud to not only offer Qatar fashionistas luxurious hand crafted, limited edition, crystal embellished shoes and handbags, but a shopping experience unparalleled with any other!
The beautiful NICOLI Boutique is adorned with striking black and white walls with stunning pops of glittering gold; providing an overwhelming feeling of Hollywood glamour and luxurious Italian style. It is this iconic style which sets the stage to an enchanting and sensual display of exclusive crystal embellished shoes and handbags, including everything from; wedges to ballerinas, wedding shoes to large stoned crystal flats, exquisitely crafted Swarovski embellished high heels to glamorous evening handbags, purses and clutches.
Steeped in glamor and famed for fashionable yet timeless products, the NICOLI name is synonymous with quality. Only the finest leathers and fabrics are used with modern monochromatic polishes, glinting metallic finishes and flashes of sparkling crystals are combined to create a look that's not only edgy and elegant but enviable and irresistible to onlookers.
With already 6 high-concept stores flourishing within the GCC region, NICOLI's growth has been forged by innovative crystal embellished shoes and handbags, and the strategic locations of their exclusive stores within popular shopping districts. It is this rock-solid foundation teamed with excellent partnerships which is driving the NICOLI brand successfully forward into the future and onto the international scene.
Now, for all those fashionista's out there not in the GCC there is no need to worry, as this superb crystal embellished brand and their exquisite products are available to shoe and handbag aficionados worldwide via their online boutique http://www.nicolishoes.com