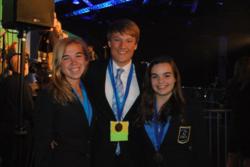 Fairfax County, VA (PRWEB) June 19, 2013
Stop Hunger Now and George C. Marshall High School DECA chapter joined forces in the fight against hunger. George C. Marshall High DECA chapter hosted a 10,000 meal packaging event in February in conjunction with a country wide DECA competition being held February through March. In March they placed 2nd out of 48 teams in Virginia for their marketing campaign, "One Quarter, One Meal, One Life" securing the team a spot in the International DECA Competition hosted in Anaheim, CA in late April. After competing at the international event in Anaheim, the Marshall High DECA team walked away with 7th place overall in their advertising campaign category.
Stop Hunger Now meal packaging events are a volunteer-based program that coordinates the streamlined packaging of highly nutritious dehydrated meals comprised of rice, soy, vegetables, flavoring, and 21 essential vitamins and minerals.
DECA prepares emerging leaders and entrepreneurs for careers in marketing, finance, hospitality and management in high schools and colleges around the globe.
"We think what won the judges over was how unique and admirable this organization was that we were advertising. Following our campaign's slogan One Quarter, One Meal, One Life, the judge in our final presentation responded at the end by donating two quarters to our campaign," said Kate Bock, Morgan Stahl and Owen Crizer, sophomores from the George C. Marshall High DECA. "This campaign was such an important experience for us as we were not only able to do well in competition, but able to make a difference in the world through an organization we believe in, Stop Hunger Now."
Around the world, more than 868 million people lack adequate food and more than 25,000 die each day from hunger-related illnesses. Stop Hunger Now operates meal packaging locations in 17 cities throughout the U.S. and international locations in South Africa and Malaysia. More than 250,000 volunteers from corporations, churches, schools and civic organizations have packaged Stop Hunger Now meals.
Founded in 1998, Stop Hunger Now has delivered aid and disaster relief supplies in the form of food, medical supplies, clothing, school supplies, and more to thousands of disaster victims and other hungry and vulnerable people in 65 countries.
For more information contact Mary Shaw (mwshaw(at)fcps(dot)edu), Fairfax County Public Schools Communication Office to learn more about local DECA chapters or Rebecca Waggoner (rwaggoner(at)stophungernow(dot)org), National Capital Stop Hunger Now to learn how more about hosting a Stop Hunger Now meal packaging event.
In 2013 Stop Hunger Now is celebrating its 15th anniversary its ongoing work to create a movement to end hunger. More than 100,000,000 meals have been packaged and distributed with other life-saving aid to 65 countries impacting millions of lives.
The organization is driven by a vision of a world without hunger and a mission to end hunger in our lifetime by providing food and life-saving aid to the world's most vulnerable and by creating a global commitment to mobilize the necessary resources.
In its efforts to respond to emergency needs around the world Stop Hunger Now receives and distributes significant donations of in-kind aid. These donations are large quantities of food, medicines, medical supplies and other such items as may be of use in fighting hunger and providing relief in a crisis.