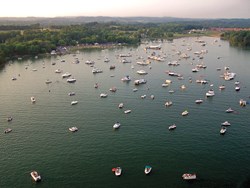 Rockin the Docks July 4th Event
Knoxville, Tennessee (PRWEB) June 19, 2013
Real Estate Scorecard salutes one of the biggest celebration cities in Eastern Tennessee which has already kicked off an incredible summer season in 2013. Just 27 miles west of Knoxville and resting on Tellico Lake, Lenoir City is the hotspot for Tellico Village property owners and out-of-state travelers searching for Loudon real estate on Tennessee lakes. The master planned community Tellico Village won Real Estate Scorecard's 2013 Bliss Award as Best Tennessee Community of the Year.
From Memorial Day weekend retreats to Independence Day celebrations, Tellico Lake is a boating landmark. Just a few weeks ago, Tellico Lake was packed with boats, jet-skis and summer-loving swimmers. Memorial Day weekend attracted thousands of people to Tellico Lake to enjoy the music, food and fireworks celebration- Rockin' the Docks. Now on its 13th consecutive year, the Rockin' the Docks events have become a don't-miss event for the residents of Tellico Village, one of the finest Eastern Tennessee lake communities. Rockin' the Docks events occur two times each year and offer a variety of activities for the entire family. The upcoming Independence Day weekend Rockin' the Docks party will be on July 6th.
Recapping Memorial Day
This year's Memorial Day Weekend proved to be a success for visitors and residents of Tellico Lake and the surrounding Eastern Tennessee lake communities. Tellico Lake was packed with boaters, while Lenoir City's park entertained thousands with music, food and fireworks. The Rockin' the Dock festivities began on May 25th at 4:00 p.m. and kicked off with an exciting parade and dedications to local individuals, organizations and businesses. To get the party started, Ergo We Play, RMS and Big Guns (An ACDC tribute band) jammed out, while attendees enjoyed the the delicious dishes made by local food vendors. The night finished with a bang as fireworks lit up the sky 10:00 p.m. and marked the end of some memorable entertainment.
Upcoming Red, White & Blue Fun - July 6th
For those that missed the Memorial Day event or for attendees who want to relive the excitement, Rockin' the Docks is appearing for a 2013 sequel! On July 6, 2013, property owners at Tellico Village and those searching for Loudon real estate can experience the excitement of Rockin' the Docks over Independence Day weekend.
The night begins at 4:00 p.m. and finishes once the fireworks end. Boating enthusiasts can fish and float during the patriotic festivities. Music-lovers can relax in the park while listening to the Rockin the Docks' bands, and indulge in a delicious meal from their favorite local vendor. There is a designated play area for children to roam and a rock climbing course for those who want to go sky-high. With all the activities available to choose from, this upcoming Independence Day Rockin' the Docks party is a fun-filled event for the whole family and is one of the many annual events at Eastern Tennessee lake communities.
Lenoir City has earned a reputation for its amazing patriotic celebrations in the midwest. The attractions tempt any traveler to visit Lake Tellico and often converts visitors into full-time residents at Tellico Village.
About Real Estate Scorecard:
Real Estate Scorecard writes unbiased real estate reviews providing in-depth information about popular gated communities in Florida, Georgia, North Carolina, South Carolina and Tennessee, all in an effort to help people discover where to retire in the Southeast.