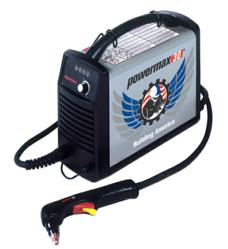 Hanover, NH (PRWEB) June 19, 2013
Hypertherm, a New Hampshire based manufacturer of advanced cutting systems, is giving away one of its special edition "American Built. Building America." Powermax30 plasma cutting and gouging systems as part of a new promotion which starts this week.
The promotion, part of Hypertherm's "American Built. Building America." campaign, is meant to build visibility for American built products and the ingenuity of Americans who work and build with metal. As such, Hypertherm is asking people to let it know what they would build—or have built—with a Hypertherm Powermax plasma cutting and gouging system. Visitors to Hypertherm's Facebook page can then vote on their favorite entry. The entry with the most votes by September 30 will win a Powermax30.
Additional details on the "American Built. Building America." Powermax30 system promotion are available by visiting Hypertherm's Facebook page and clicking the "Win a Powermax30!" tab at the top.
The "American Built. Building America." Powermax30 includes a number of additional features to celebrate the people, infrastructure, and institutions responsible for creating the foundation of America. Features include a heavy duty canvas carrying case, extra consumables, a Powermax30 deflector for drag cutting, and more. Like all Powermax systems, it is engineered and assembled by the associate owners of Hypertherm at the company's main manufacturing facility in Hanover, New Hampshire. The system weighs just 20 pounds, yet can easily cut ¼ inch thick metal and sever metal twice that thick. Large companies, small businesses, and do-it-yourself home hobbyists are all enthusiastic users of the Powermax30.
Hypertherm designs and manufactures advanced cutting products for use in a variety of industries such as shipbuilding, manufacturing, and automotive repair. Its product line includes handheld and mechanized plasma systems and consumables, as well as fiber laser and now waterjet products, in addition to CNC motion and height controls and CAM cutting software. Hypertherm systems are trusted for performance and reliability that result in increased productivity and profitability for hundreds of thousands of businesses. The New Hampshire based company's reputation for cutting innovation dates back more than 40 years, to 1968, with Hypertherm's invention of water injection plasma cutting. The associate owned company, consistently named one of the best places to work in America, has more than 1,300 associates along with operations and partner representation worldwide. The company's online address is http://www.hypertherm.com.