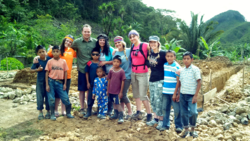 Salt Lake City, UT (PRWEB) June 26, 2013
Utah-based retailer DownEast Home & Clothing today announced its "Round Up for CHOICE" campaign to benefit CHOICE Humanitarian, a non-profit agency working in rural villages in developing countries to help end poverty. Now through July 21, shoppers at DownEast stores in eight states will be invited to donate to CHOICE by rounding up their purchase total.
CHOICE currently operates in five countries – Kenya, Nepal, Bolivia, Guatemala and Mexico – working with villagers to improve quality of life through a model of self-reliance. DownEast employees began a partnership with CHOICE in 2009 and have since completed three expeditions to the Chirixquitzac village in the mountainous Polochic region of Guatemala to assist in projects. In years past, the DownEast team has worked alongside villagers to dig trenches for a clean drinking water system and build an elementary school. For this year's expedition that took place earlier this month, team members helped with the construction of a multicultural community center to be used as a marketplace and site for village gatherings.
In 2011, DownEast employees were also instrumental in helping to enroll 100 percent of the village women in adult literacy classes.
"It's been rewarding to witness the villagers' progress and growth," said Chelsi Crossley, a regional manager for DownEast who has completed three CHOICE expeditions, including the one earlier this month. "From our first year of working to simply get clean water into each home to this year's project of building a structure for commerce and community, it's clear how far the village has come. I've been touched by the people I've met there and feel so fortunate to have taken part."
Through its corporate matching program, DownEast and its employees have contributed more than $140,000 to CHOICE Humanitarian since 2009.
According to CHOICE Humanitarian CEO Leah Barker, "We're very appreciative of the ongoing support of DownEast, including the hands-on participation of its employees. There are so many ways for organizations and individuals to get involved with CHOICE to improve the quality of life for everyone involved."
By rounding up your total purchase when you shop at DownEast stores from now through July 21, you can "use your change to help change the world" for many people in developing countries.
Photos and stories from this year's expedition will be shared on the DownEast by Design and At Home with DownEast Home blogs.
About DownEast
DownEast (http://www.downeastbasics.com), a leader in stylish and affordable apparel, home furnishings and accessories, believes that shopping should be a fun, guilt-free experience. Founded in 1991 and still family owned and operated, DownEast continues its goal of bringing customers the very best merchandise – from national brands to its own DownEast lines of home furnishings and DownEast Basics apparel – at the very best prices.
Shop for cute tops, women's sweaters, modest dresses and accessories at Downeastbasics.com.
The fast-growing retailer operates nationally with its Basics line via its online store in addition to 52 locations throughout the West including in Utah, Colorado, California, Idaho, Arizona, Washington, Nevada and Wyoming.
# # #