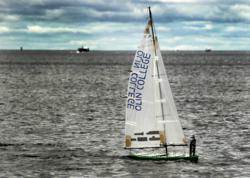 Needham, MA (PRWEB) June 20, 2013
The 2013 Sailbot Regatta was marked by a spectrum of weather only found in New England; everything from warm sunny days to squalls with 30 knot gusts. Sixteen teams from around the globe met in Gloucester, Massachusetts to brave the elements and put on a spectacular contest.
Building on the success of previous regattas, SailBot 2013 was hosted by the City of Gloucester and Olin College of Engineering and held in Gloucester Harbor from June 9th-13th. The competition hosted sixteen teams split between one-meter and two-meter boats. Participants competed in five events: two manual control fleet races as well as autonomous challenges of navigational accuracy, station-keeping and a long-distance race. Each team also presented their robotic sailboats to a panel of naval architects and professional roboticists.
Despite unpredictable and unforgiving weather, all sixteen teams showed up and every single boat was able to sail. Within these sixteen teams, ten were novices to the competition and six represented high schools. Three of those high school teams will be organizing and hosting a regional competition in 2014, in hopes of encouraging more high schools to join the excitement.
"Project-based competitions, like Sailbot, are extraordinary learning opportunities for the participants," said Andrew Bennett, Associate Professor of Engineering at Olin College and race organizer. "Learning engineering through actually building a functioning robot with limited funds and during a certain timeframe and then competing is thrilling, and a valuable life lesson."
Though the competition was close, the University of British Columbia prevailed as the overall 2013 winner and will have the honor of hosting next year's event.
Two-Meter Contestants:

University of British Columbia (Vancouver, British Columbia)
U.S. Naval Academy (Annapolis, MD)
Aberystwyth University (Aberystwyth, Wales)
Olin College (Needham, MA)
Memorial University of Newfoundland (St. John's, Newfoundland)
Iowa State University (Ames, IA)
One-Meter Contestants:

Albemarle High School (Charlottesville, VA)
Newburyport High School (Newburyport, MA)
Gloucester High School (Gloucester, MA)
Community Boating (Boston, MA)
Endicott College (Beverly, MA)
Tufts University (Boston, MA)
Gloucester High School (Gloucester, MA)
University of Guelph (Ontario, Canada)
Swampscott High School (Swampscott, MA)
El Dorado High School (Albuquerque, NM)
Results are as follows:
Overall Two Meter:
First Place UBC
Second Place USNA
Third Place Aberystwyth University
Overall Onw Meter
First Place Albermarle MESA
Second Place Newburyport HS
Third Place Gloucester HS
Navigation Accuracy Two Meter: University of British Columbia
Navigation Accuracy One Meter: Albermarle MESA
Presentation Two Meter: University of British Columbia
Presentation One Meter: Albermarle MESA
Long Distance Two Meter: University of British Columbia
Long Distance One Meter: Albermarle MESA
Stationkeeping Two Meter: Tie
University of British Columbia
Aberystwyth University
Stationkeeping One Meter: Albermarle Mesa
Fleet Race Two Meter: University of British Columbia
Fleet Race One Meter: Tie
Community Boating, Inc.
Endicott College
Tufts University
"The City of Gloucester, Maritime Gloucester, Ocean Alliance and Endicott College were spectacular partners for the race. We could not have pulled this off without their support," said Bennett.
To learn more about Sailbot, please visit Sailbot.org.
To learn more about Olin College, please visit Olin.edu.