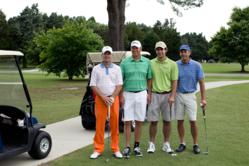 Gloucester, Va. (PRWEB) June 19, 2013
Ware Academy raised nearly $20,000 Monday, June 10 at its 11th Annual Ware Academy Golf Tournament.
Held at the Indian Creek Yacht & Country Club in Kilmarnock, the tournament marks one of the independent school's signature fundraising events of the year, with funds supporting academic programs, scholarships and tuition assistance for students.
"The entire community – both from Ware Academy and the Middle Peninsula and Northern Neck – helped make this year a success," said Ginger James, Ware Academy's Director of Admissions and Special Events. "We had sponsors at all levels. Every donation, no matter how much, helps open a door of opportunity."
Rappahannock Concrete was the tournament sponsor. Also supporting the event were the Bank of Lancaster, Chesapeake Bank, Chick-Fil-A, Gunn's Body Shop, Merrill Lynch, Revere Gas & Appliance, Dr. Tim Leigh, DDS, the Inn at Warner Hall, Blackwater Pier and Dock, Randolph Construction, Gwen McComas – Realtor, Cooks Corner Carwash, Riverside Walter Reed Hospital, EVB Investments and the Law Offices of Gibson Singleton, PLLC.
There were an additional 47 hole sponsors, "which was the most we've ever had," James said.
Located one mile from the historic courthouse area of Gloucester, Va., Ware Academy is an independent school for students pre-K to eighth grade.
The Indian Creek Yacht & Country Club is located in Kilmarnock at 362 Club Drive.
For more information about this or other Ware Academy fundraisers, contact Ginger James, Director of Admissions and Special Events, at 804.693.3825.
ABOUT WARE ACADEMY:
Located one mile from Main Street in Gloucester's historic Courthouse district, Ware Academy is a Pre-K through 8th Grade independent school. The 19-acre campus is widely recognized by its signature farmhouse called Noland Hall, which houses the administrative offices, kindergarten, pre-kindergarten, music and art classrooms.
The Lower and Middle Schools are located in Waddell, Thomas, and Pickett Halls, with athletics, physical education and drama classes held in Kilborn Hall.
In addition to classrooms, Ware offers a fully outfitted computer lab, a science laboratory and a 1,000-square-foot library. The athletic program includes soccer, volleyball, cross-country, basketball, lacrosse and golf.
Ware Academy is accredited by the Virginia Association of Independent Schools, the National Association of Independent Schools, and the Education Records Bureau and the Secondary School Admissions Test Board. Ware Academy is also a member of the National Middle School Association, the National Junior Honor Society and the Association of Supervision in Curriculum Development.
Keep in touch with Ware Academy online at http://www.wareacademy.org, on Facebook at /WareAcademy and on Twitter @WareAcademy1.