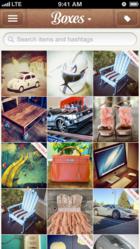 New York, NY (PRWEB) June 19, 2013
Today, Boxes launches from its private beta in 155 countries worldwide with support for 28 different currencies. It is now available for free on iPhone and ready for download in Apple's App Store here http://box.es/download.
Boxes is a tool to help people make the most of the stuff they own by organizing and keeping track of all the stuff they love in one place. It enables opportunities that they wouldn't easily have otherwise. People use Boxes to organize their collections, wardrobes, and most valuable things; to plan a move to their new home or office; promote their brand, products, or artwork; to buy and sell the stuff they love, and so much more. They're also able to discover some of the great things others own from around the world. It's incredibly addictive—once people start using it, they can't stop.
Since Boxes went live with its private beta just a few weeks ago, thousands of people from around the world signed up for early access, and more than $15 million dollars worth of products have been added by collectors, brands, retailers, museums, and others. The app now has some of the rarest and most desired automobiles in the world; men's and women's clothing, handbags, and accessories; high-line watches and jewelry; amazing and rare collectable toys; beautiful and one of a kind art pieces, and so much more.
"We see a growing community and a place to discover some amazing stuff", said Solomon Engel, Founder and CEO. "Many people are organizing their stuff for different reasons, and with the more stuff they add, Boxes becomes more interesting to explore. Within such a short time, you can already find stuff on Boxes that you wouldn't easily find elsewhere."
Boxes has been designed to make organizing and keeping track of people's stuff extremely simple and fun. They can take beautiful photos of their items, add some important details, organize them in boxes, and then share them with friends and others in the Boxes community as well as on their favorite social networks. Furthermore, whenever they're ready to sell something, they can easily list an item for sale with just a few taps.
As people add their stuff to Boxes they're naturally able to build up a community of followers who share the same interests, making it far more engaging to use, and providing them a much easier way to sell and promote their stuff. "Boxes closes the loop for folks looking to reach a wider audience. With a community of people that share the same interests, you're far more likely to have success promoting or selling your products — as individuals, brands, or retailers", said Solomon.
Whether folks have hundreds or thousands of collectable items; looking to make their next move to that new home or office; ready to organize their wardrobe; interested in showing the world all the great things they own; needing to promote their brand and products, or just wanting to buy and sell the stuff they love—Boxes is the best way to help them make it happen.
"There are so many ways one could make use of Boxes," said Solomon. "It clearly redefines the way people organize, discover, sell, and purchase stuff—no matter if they are collectors, retailers or just you and I."
To learn more about Boxes, head on over to our website at http://box.es.