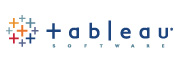 Seattle, WA (PRWEB) June 20, 2013
Tableau Software (NYSE: DATA) today announced it will provide free licenses of Tableau Desktop Professional to members of the organization Investigative Reporters and Editors (IRE). Tableau Software and IRE are coming together to support the mission of journalism and provide state-of-the-art tools to journalists.
Many journalists use Tableau's free product, Tableau Public, and its companion product, Tableau Public Desktop. Publishers include Argentine daily newspaper, La Nación; British national daily newspaper, The Guardian; French daily evening newspaper, Le Monde; The Dallas Morning News and many more. With this announcement, journalists will be able to use Tableau Desktop Professional to:
•Save files locally, as opposed to on the web, so they can develop stories without publishing them to the public.
•Publish to the Tableau Public service when a story is ready. Tableau Public provides live, interactive visualizations that can be embedded in web pages.
•Work offline.
•Access databases, Hadoop and a wide variety of data sources.
"At Tableau we believe that data is an important part of the civic conversation," said Ellie Fields, Senior Director of Product Marketing. "Journalists have embraced Tableau Public as a way to tell important stories with data, and we want to support them in their work. And while Tableau Public is for making data open, journalists often need to keep their data private while they are developing a story. Providing complimentary licenses to Tableau Desktop Professional will let them do that."
Journalists interested in the program should apply directly to IRE.
About Tableau Software
Tableau Software (NYSE: DATA) helps people see and understand data. Tableau helps anyone quickly analyze, visualize and share information. More than 12,000 customer accounts get rapid results with Tableau in the office and on-the-go. And tens of thousands of people use Tableau Public to share data in their blogs and websites. See how Tableau can help you by downloading the free trial at http://www.tableausoftware.com/trial.
Tableau and Tableau Software are trademarks of Tableau Software, Inc. All other company and product names may be trademarks of the respective companies with which they are associated.