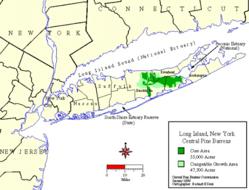 Now, the Town seeks to expand the Pine Barrens Preservation area to include the Carmans Watershed, and issue hundreds of additional credits without having met their obligations to existing Credit holders.
Brookhaven, NY (PRWEB) June 25, 2013
Today, supported by letters from the Nature Conservancy, the Long Island Builders Institute, and the Long Island Pine Barrens Society, Pluralis LLC a company which owns close to 50% of the supply of existing Pine Barrens Credits brought suit against the Town of Brookhaven and the Central Pine Barrens Commission alleging that The Pine Barrens Credit Program, Brookhaven Town's multi-family code, and the Town's lip service to middle class and affordable housing are, in a word, shams.
The suit states that the Pine Barrens Act, and its related land use plan which the Town adopted, required that Brookhaven take a series of actions which were collectively designed to support the value of Pine Barrens Credits and assist in high density housing development applications. These actions were required to be completed 18 years ago, yet have never been done, causing over $20 million of value to be lost to Pine Barrens Credits holders.
The lawsuit indicates that Brookhaven has failed to abide by state law and states "...repeatedly over the last 10 years when fully compliant land use applications endeavored to properly utilize Pine Barrens Credits, the Town has affirmatively denied these applications." Brookhaven has almost never permitted Pine Barrens Credits to be used to increase housing density in subdivision applications which "is raising the cost and retail prices of its new housing stock and is violating the spirit and intent of providing economically practicable housing to all classes of society," the suit alleges. It also submits that there are currently no, new, as of right, multi-family sites in Brookhaven to which one can apply Pine Barrens Credits.
The lawsuit seeks to unwind the initial Pine Barrens Credit transfers so that the original core property owners can get their land back, to disengage the Town of Brookhaven from the Pine Barrens Credit Program, to prevent Brookhaven from ever issuing another Pine Barrens Credit to purchase land in the Carman's River Watershed area or any other area, and to compel the Pine Barrens Commission to sue the Town of Brookhaven.
The lawsuit was brought by known zoning and land use attorney, Richard Scheyer, of Nesconset NY- 631-265-8500 (Index No. 13-15979 Suffolk County Supreme Court).
Sources: The Brief (Index No. 13-1597), Newsday "Brookhaven sued over pine barrens credit system" 6/19/13, Long Island Business News, "Toussies sue Brookhaven, Pine Barrens Commission" 6/19/13.