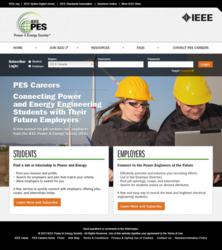 IEEE PES started PES Careers in 2008 as a free online service to employers and power engineering students that addressed emerging engineering workforce challenges.– Dennis Ray, Deputy Director, Power Systems Engineering Research Center and PES Volunteer
Somerset, New Jersey (PRWEB) June 20, 2013
D2 Creative partners with the Institute of Electrical and Electronics Engineers (IEEE) Power & Energy Society (PES) to release PES Careers, a PES website whose streamlined design connects power and energy engineering students in the United States, Canada and Europe with potential employers.
"IEEE PES started PES Careers in 2008 as a free online service to employers and power engineering students that addressed emerging engineering workforce challenges." – Dennis Ray, Deputy Director, Power Systems Engineering Research Center and PES Careers Volunteer Administrator
To encourage subscription to the free service, D2 Creative focused on providing users with a clear understanding of the purpose and benefits of PES Careers. The site is organized to directly address two distinct audiences: power and energy engineering students searching for jobs and internships, and professionals in the power and energy industry looking for qualified, entry-level candidates.
Current subscribers can log in on the homepage, while new users can identify themselves as either students or employers, and click through the appropriate portal to the explanation of PES Careers that applies to them. Subscribing to the service allows students to post resumes, create profiles and search for employers and jobs, while employers can easily connect to hundreds of students and recent graduates who have demonstrated interest in the power and engineering field. Persistent "Calls to Action" offer users the opportunity to subscribe to PES Careers from every page of the site.
The site's expansive imagery reflects the importance of student-mentor relationships. Since users can access PES Careers from the PES website as well as independently, the design elements of PES Careers are consistent with those of the PES parent site to provide users with a familiar experience.
"We took cues from the visual hierarchies of the original PES site to create a seamless transition from one website to the next. While PES Careers is its own site, the user experience won't change from one site to the next." – Peter Magulak, Senior Interactive Art Director, D2 Creative
IEEE is the world's largest professional association for the advancement of technology and a long-standing client to the NJ-based digital agency. IEEE PES helps to map the future direction of the industry through publications, conferences, and a variety of educational and networking opportunities. For more information on the society, or to see a complete list of PES-related conferences and publications, visit http://www.ieee-pes.org/ .
D2 Creative is an independent digital agency that helps organizations increase reach, influence, and effectiveness through creative digital solutions.
# # #
If you would like more information about this topic or D2 Creative in general, please contact Carrie Plantamura at 732-507-7441 or email at info(at)D2creative(dot)com.