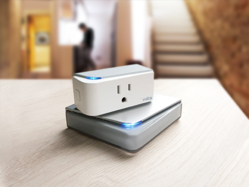 The typical home is leaking electricity watt by watt...
Toronto (PRWEB) June 20, 2013
Valta technologies this week launched a campaign on Kickstarter.com unveiling the creation of a "smart" power outlet that can wirelessly control electronic devices in the home and office.
The system, which allows users to control appliances via their smartphone, is designed to reduce the hidden waste and costs associated with typical power usage.
"Most people aren't aware of how much energy their wasting on an everyday basis," said Valta co-founder Jeff Lin. "With the touch of a button, our smartphone app allows you to turn almost any device on or off, and it can show you what's on, where, and when, so you can save money and energy."
Valta, a Toronto-based start-up with offices in Hong-Kong, developed the product to make energy management simpler and easier for the everyday home or business owner.
The product, which includes one or more 'smart' power outlets, a v-hub, and a smartphone application, can automatically detect unused devices, identify energy waste, and send notifications to help users save money and energy.
The Valta system's easy-to-use, common-sense app interface is made all the more powerful by the system's high-definition chip set, which is more precise than any other known product on the market.
This allows the system to sense standby power – the power a device uses even when it's in the "off" position. Standby power usage accounts for as much as 7 to 22 percent of electricity usage worldwide, and adds 50 million tons of CO₂ to the atmosphere annually according to the International Energy Association.
"The typical home is leaking electricity watt by watt, wasting valuable resources and costing homeowners money," Lin said. "The Valta system can detect that waste, recommend ways to minimize it, and save our customers money."
Users can save hundreds of dollars a year on their energy bill, depending on their personal use habits.
The Valta system can be used to reduce energy waste on office computers, home entertainment systems, printers, televisions, coffeemakers, washing machines, irons, and virtually any electronic device that plugs into a typical outlet.
Supporters on kickstarter will be among the first to try the new system, which has already been successfully tested in the prototype phase, and plans to mass produce the product in 2013. Kickstarter supporters can pledge as little as $5 to support the company's goal to create smarter, more efficient energy use, and a pledge of $139 allows supporters to be among the first to receive the product.
For more information on the kickstarter launch visit http://www.kickstarter.com/projects/671204280/valta-energy-usage-simplified?ref=live
About Valta:
Valta was started to bring transparency to electricity usage. The company founders wanted the masses to understand how energy is being used and wasted, and what we can do about it. Most energy management systems only allow you to turn on-and-off electrical devices remotely. The ones with energy measurements to help you manage usage are too technical and require insider knowledge and background to navigate. Some of this can be quite difficult to understand. The goal at Valta is to make energy management easy to understand by creating an elegant, yet simple to use system that can truly help people manage their energy usage without sacrificing their life style. Valta believes being energy efficient no longer just means turning down the thermostat, or turning off the light when you leave the room, it means eliminating energy waste. Valta provides a tool to use energy without wasting it, and help users to adopt more sustainable usage patterns.