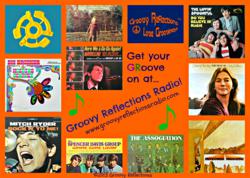 Orange County, CA (PRWEB) June 20, 2013
Groovy designs, including Groovy Reverb and Groovy Rebel, are now on display online at http://www.groovyreflections.com/hand-tie-dyed-t-shirts.html.
The Groovy Reflections website is affectionately described as "a celebration of 60's and 70's music and pop culture." The hand tie-dyed t-shirts are available on the original website, while a separate website has been dedicated to the internet/smart phone radio station that launched on May 6th. The t-shirts appeal to a wide audience and Groovy Reflections is pleased to say that everyone "from 2 to 200" has purchased and enjoyed these groovy T Shirts.
"These are hand tie-dyed, so each is unique!" said Patrick, suggesting that the limited editions are only available for a short period of time and that some people may regret not getting their shirts within the short time frame a particular design is offered.
"When we are out, we are out!" added Patrick. "We're proud to bring limited edition t-shirts to you at a special price." notes the spokesman. Among the color combinations currently on offer and display at Groovy Reflections online store are aqua/green, teal/brown, and purple/blue.
Groovy Reflections recently introduced their internet radio station, http://www.groovyreflectionsradio.com and have already launched their first original show, My Front Porch, with Paul Dee. The program focuses on the early 1960's folk scene and blends in some newer songs from that genre as well. Other shows are launching soon.
The radio station is available 24/7 with groovy 60's and 70's tunes, including popular songs and songs that bubbled under the top 100. A wide range of musical styles are played including pop, classic rock, girl groups, garage, country and folk. Some 1950's tunes are included as well, reminding us about the beginnings of Rock 'n Roll.
About Groovy Reflections
Groovy Reflections™ is founded on Peace, Love, and Grooviness, bringing groovy sights and sounds to you that will shake, rattle and roll your nostalgia buttons. The core product is tie-dyed t-shirts, all dyed by hand. Each is one-of-a-kind, reflecting what Groovy Reflections™ is all about.
Susan, a recent winner of a Groovy t-shirt on the popular Groovy Reflections Facebook page says, "When you choose to wear a Groovy Reflections t-shirt you are letting others know that you are unique, special and have a passion for what Groovy Reflections stands for."
"We share that passion with you," said Patrick. "And now, you're probably thinking... where can I get tie dye fashions? Groovy Reflections of course! Your tie dye shirt in your favorite colors! The whole family can be fashionable in tie dye t shirt glory! And do check back from time to time; we plan on rolling out more tie dye t-shirt products that will always be hand tie dyed and never just cut from a printed fabric."