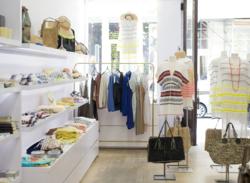 "With easy-care raffia, fabulous stripes and generous cuts, these styles will give our shoppers that effortlessly stylish look that we look for when selecting pieces for Kisan."
New York, NY (PRWEB) June 20, 2013
Kisan, the highly curated designer women's and children's retailer in Soho, created a new window display showcasing the best of Summer 2013's beach fashions. The retailer's beach-themed storefront is promoting handbags from Sans Arcidet and Jerome Dreyfuss, beachwear from LemLem and Gilda Midani, and accessories from Lola Hats.
"These designers have created the perfect blend of comfy, modern and easy-to-wear fashions to wear to the beach," said Kisan co-owner Thorunn Anspach. "With easy-care raffia, fabulous stripes and generous cuts, these styles will give our shoppers that effortlessly stylish look that we look for when selecting pieces for Kisan."
LemLem, the line created by Ethiopian supermodel Liya Kebede, features dresses, tops and cover-ups in her signature stripes in African-inspired colors. Her hand-woven fabrics, created for the tropical and desert heat of Ethiopia, are breathable and very comfortable. This season's styles feature bright stripes in neon orange, yellow, turquoise, and more.
The summer collection from Brazilian designer Gilda Midani is perfect for the beach with her soothing cotton fabrics with soft hand-dyed colors. The tops and dresses selected by Kisan feature scoop and V necklines as well as stylish color-blocking. The color palette ranges from deep blue to luscious guava.
"Both of these designers create styles that look fresh and feminine," said Kisan co-owner Olivier Bremond. "Even in harsh beach conditions, the soft, wearable fabrics and generous cuts will give any woman a sophisticated, yet effortlessly casual look and keep her comfortable."
Beachwear accessories include style and protection from the sun from Lola Hats. Known for exquisite craftsmanship and the fashion-forward details, the New York milliner's creations have a decidedly European flair. Summer 2013's styles include warm-weather raffia designs with fun feather and ribbon details.
These hats look smashing paired with the latest raffia handbag styles from Sans Arcidet. Completely handmade by the finest artisans in Madagascar, these beach bags have a touch of Parisian style as well. Kisan's selections from the Summer 2013 collection include colorful straps and stylish silhouettes.
Python and buttery-soft lambskin are the staples of the new handbag collection from French designer Jerome Dreyfuss. Color-block styles in summer colors are versatile enough to take their owners from a day at the beach to a dinner date. Each bag is unique and hand-made using environmentally friendly practices.
Kisan's designer fashions are on sale throughout June. The retailer continues to showcase feminine, effortless, high-quality styles with an urban twist that Anspach and Bremond choose from their favorite current and up-and-coming designers. Their highly curated collection features a unique blend of designers, some of which are hard to find anywhere else in New York.
Anspach and Bremond opened Kisan in 2008 in Soho, bringing the very best of their favorite fashions and designers they discovered while traveling the world extensively for 20 years. Their retail philosophy is to marry Parisian fashion sensibilities with New York style with clothing that doesn't sacrifice fine quality and wearability. The owners pride themselves on selecting current and upcoming designers with a unique dedication to both craft and style.
Kisan is located at 125 Greene Street, between Prince Street and W, Houston Street in New York. Or shop online at http://www.kisanstore.com.