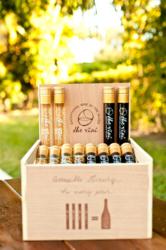 The Vini makes fine wines and luxury approachable to the masses, offering an elegantly packaged generous pour without the financial commitment.
Miami, FL (PRWEB) June 24, 2013
The Vini - Exceptional Wine by the Glass®, the first-ever format for the delivery of single-serve fine wine offers palate-pleasing wine to those seeking daily luxury one glass a time. Launched by Miami entrepreneur and boutique winery owner, Sunny Fraser, The Vini is not only a trademarked brand of exclusive wines, but also a sleek, patented, 187ml glass tube complete with industry standard Stelvin® screw cap.
The Vini fills a major void in the wine market. Fraser realized that the ability to taste a fine wine was a privilege typically only available to wealthy wine enthusiasts. Her creation now makes fine wines and luxury approachable to the masses, offering an elegantly packaged generous pour (1/4 of a regular size bottle) without the financial commitment.
Currently offered in blends of California Napa wine based on Zinfandel and a California Sonoma wine based on Chardonnay, The Vini's unique packaging, which offers both a beautiful display and an ergonomic-inspired design, makes it convenient to incorporate luxury into your everyday lifestyle without compromising elegance and sophistication.
"The Vini is fine wine and should be treated as such. It is supposed to be poured into a wine glass like all fines wines. It's not a gimmick, so we don't recommend drinking it straight from the bottle like those ready-to-drink, supermarket and convenience store style options out there," says David Gordon, The Vini's Chief Visionary Officer.
Continuing to revolutionize fine wine - one glass a time, one of the company's 2013 initiatives is to allow other high-end wineries to bottle in The Vini format. Touted as the mastermind behind The Vini, Sunny has conceptualized and managed The Vini project since its inception in 2010.
The Vini is available online at http://www.thevini.com and also at fine retail and marketplace locations in South Florida including, Perricone's Marketplace, Vintage Liquor Midtown, Laurenzo's Specialty Market, Joe's Stone Crab Take Away, Joanna's Marketplace, Anacapri Italian Market and hotels including The St. Regis Bal Harbour, Eden Roc Renaissance, PGA National Resort & Spa, South Beach Marriott and more. For a full list of retail locations or to order online, visit http://www.thevini.com.
About Sunny Fraser and David Gordon
Founder and CEO, Sunny Fraser and CVO/Chief Wine Expert, David Gordon reside together in Miami, Florida. Defining bicoastal, they travel back and forth regularly to Sonoma, California, where they source, finish and bottle superior quality wines in this innovative format. Together, they brought this sophisticated single serve design to fruition.
About The Vini – Exceptional Wine by the Glass®
The Vini is a unique, patented, single serve format in the 187ml category exclusively for fine wine. Different from most wineries, The Vini is also a proprietary; state-of-the-art bottling company located in Sonoma, CA, with its corporate headquarters in Miami, FL.
Please check The Vini via social media: facebook.com/theviniwine, twitter.com/theviniwine or @TheViniWine and pinterest.com/theviniwine
MEDIA CONTACT
Carma PR
Oriane Lluch / Oriane(at)carmapr(dot)com
305-438-9200