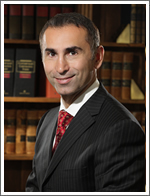 Top Labor Employment Attorneys in California
Los Angeles, CA (PRWEB) June 24, 2013
Leading Los Angeles labor lawyer Rodney Mesriani, Esq. expresses his concern and calls for vigilance in protecting all workers, in reaction to the most recent 2012 enforcement and litigation statistics released by the U.S. Equal Employment Opportunity Commission (EEOC). The recent EEOC statistics showed that it received 99,412 private sector workplace discrimination charges during fiscal year 2012 - retaliation (37,836), race (33,512) and sex discrimination (30,356), which includes allegations of sexual harassment and pregnancy.
"What is more distressing here is that, although EEOC mentioned in the report that there was a slight decrease in employment and labor violation charges filed as opposed to the previous year, it does not change the fact that almost a hundred thousand employees still suffer humiliation, dishonor and degradation each year, and this number does not even include the fact that thousands of wrongful termination cases and allegations of employment discrimination are not filed or reported by wrongful termination and employment discrimination victims each year for fear of retaliation and loss of gainful employment or benefits," asserts Mr. Mesriani. Mesriani Law Group's top Los Angeles employment discrimination lawyers pride themselves in assisting employment and labor law victims by handling all kinds of discrimination cases, to include age discrimination, racial discrimination, gender discrimination, disability discrimination, religious discrimination, pregnancy discrimination, national origin discrimination, workers compensation discrimination and violation of whistle blowing laws, among others on contingency basis.
Mr. Mesriani, together with the Mesriani Law Group, has already obtained millions of dollars in settlements for handling all kinds of employment cases and labor law issues for their clients, including workplace discrimination, wrongful termination, sexual harassment, retaliation, violation of whistle blowing laws and wage and hour violations, among others. Mesriani Law Group handles a variety of employment and labor claims against large employers. This top Los Angeles employment law firm aggressively fights against unjust employers, putting a stop to their abuse and taking the fight back to them. Suddenly, after Mesriani Law Group's involvement, employers and their law firms go from offensive to being defensive.
In promoting the rights of the employees in the work place, Mr. Mesriani, leading Los Angeles wrongful termination attorney, declares that, "There is a grave need to remind employers of their obligations under the law to respect the employment rights of every employee against employment discrimination, which degrades the value of the person and disrupts employment relations and violates California and Federal employment laws in the work place."
The top Los Angeles labor lawyer adds that, "Even with the most recent ruling on wrongful termination, where the Supreme Court of California ruled that an employer may not be penalized with damages or reinstatement in favor of a "wrongfully terminated employee" upon a showing, by preponderance of evidence, that the employer has a legitimate, contemporaneous reason for the employee's discharge [Harris v. City of Santa Monica, Case S181004, (Cal. Sup. Ct., Feb. 7, 2013)], our law firm will remain steadfast and be more vigilant in making certain that we offer the most meticulous of evidence to prove malice on the part of the employer at fault and to make certain that we provide the best legal service to all wrongfully terminated and discriminated employees who come to us for legal aid." The new ruling handed down in the mentioned case of Harris v. City of Santa Monica, in Mr. Mesriani's opinion, could possibly provide a seeming complete defense for employers in cases of alleged wrongful termination or discrimination.
Mr. Mesriani, stresses that, "It is our law firm's strong position that the employees are the lifeblood of our nation's economy and in helping each wrongful termination victim or victims of employment discrimination get equal representation in the eyes of the law, we believe that we have already contributed in the rebuilding of our nation's economy and patrimony."
About Mesriani Law Group, P.C.
Mesriani Law Group is a Los Angeles, California based employment and labor law firm founded by Rodney Mesriani, Esq., with decades of experience in helping wrongfully terminated and employment discrimination victims, as well as victims of labor law violations obtain the highest compensation they deserve. The law firm's best Los Angeles employment and labor law lawyers, based in 5723 Melrose Ave., Suite 220, Los Angeles, CA 90038, specialize in handling all types of wrongful termination cases; violation of retaliation laws; violation of whistle blowing laws; and employment discrimination, to include age discrimination, racial discrimination, gender discrimination, disability discrimination, religious discrimination, pregnancy discrimination, national origin discrimination and workers compensation discrimination, as well as labor law violations to include: violations of the minimum wage, overtime, meal and rest break laws and other labor law violations. To learn more about the firm, call (866) 998-2545 for a free case evaluation or email them at rodney(at)mesriani(dot)com or take advantage of their free on-line case submission.